Hostages in Afghanistan plead for release
(Agencies)
Updated: 2004-11-01 08:08
Militants released a video Sunday showing three frightened foreign U.N. hostages pleading for their release and threatened to kill them unless U.N. and British troops leave Afghanistan and Muslim prisoners are freed from U.S. jails.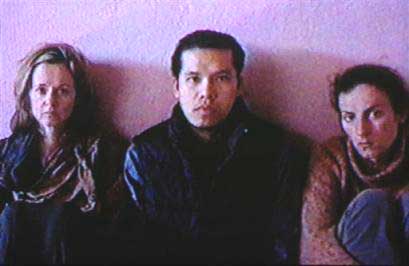 Annetta Flanigan of Northern Ireland, left, Filipino diplomat Angelito Nayan, center, and Shqipe Habibi of Kosovo, right, seen in this video released by militant, Sunday, Oct.31, 2004. Militants released a video Sunday showing three frightened foreign U.N. hostages pleading for their release, and threatened to kill them unless United Nations' and British troops leave Afghanistan and Muslim prisoners are freed from U.S. jails. [AP]

In the tape, the hostages ! Annetta Flanigan of Northern Ireland, Filipino diplomat Angelito Nayan and Shqipe Habibi of Kosovo ! are shown sitting hunched together against the bare wall of a room in an undisclosed location. The three answered questions from someone who is speaking to them in broken English from off camera.

Both women are crying, but the trio look healthy and unharmed.

The Iraq-style abduction could put a brake on the country's post-Taliban recovery and overshadow the crowning of U.S. favorite Hamid Karzai as its first democratically elected president. The three, who helped organize the Oct. 9 election, were snatched from a U.N. vehicle on a busy Kabul street last Thursday.

In the video, obtained by Associated Press Television News in Pakistan, the questioner repeatedly asks the captives why they have come to Afghanistan, then asks why America and NATO have sent troops to Afghanistan and Iraq.

"We have nothing to do with America," Nayan says calmly. "We are here for the Afghan people." He adds later: "We all want to go home to our families. We are United Nations workers. We want to go home to our kids and to our parents."

Habibi explains that she is from Kosovo ! the mainly Muslim autonomous region of Serbia ! but her abductor seems unsure where that is.

"It is a Muslim country," she says. "I thought I could help a Muslim country, and I just want to go home and see my brother."

All three hostages appear frightened. Their interviewer at several points seems to try to reassure them, saying to Flanigan: "Don't cry. Why you cry?"

But he repeatedly ! sometimes sharply ! asks them what they are doing in Afghanistan, and does not seem to understand their answers.

Toward the end of the 15 minute video, obtained by APTN in neighboring Pakistan, the interviewer appears to ask Flanigan to cry for the camera, to which she replies: "I have cried and cried and I can't cry anymore."

Finally after 15 minutes, Nayan asks: "Are we going to be released?" and the tape ends.

Karzai, the country's interim leader, released a statement saying he spoke with British Prime Minister Blair on Saturday and that they "strongly condemned the hostage situation."

"This war is against the Afghan nation and we know who will win," Karzai said, without indicating how the governments would respond to the crisis.

A Taliban splinter group called Jaish-al Muslimeen, or Army of Muslims, claimed responsibility for the abduction. Ishaq Manzoor, a spokesman for the little-known group, told The Associated Press on Sunday that the hostages would be executed in three days if their demands were not met.

"The Afghan government and their foreign masters would be responsible if we got rid of the hostages," he said by phone from an unknown location.

However, the group's leader, Akbar Agha, insisted in a separate phone call that it had set no deadline.

U.N. spokesman Manoel de Almeida e Silva said the world body was "relieved" the hostages were unharmed and appealed for their immediate release.

He refused to discuss whether contact had been made with the kidnappers or how the United Nations would respond to their demands, though said there were no plans to halt programs or pull staff out of the country.

Manzoor ! who also demanded the release of Muslims from U.S. custody in Guantanamo Bay, Cuba, and the main American base north of Kabul ! said the group was in touch with the Afghan government through a go-between.

Spokesmen for the Afghan Interior Ministry, which is leading the search for the hostages, could not be reached.

Intelligence officials say Jaish-al Muslimeen emerged about five months ago and carried out a string of minor attacks in southern Afghanistan, including ambushes on fuel trucks supplying American bases.

One former Taliban minister said the new group's leader was a commander for one of the Afghan factions who fought Soviet occupiers in the 1980s.

Agha joined the Taliban only briefly before setting himself up as a businessman in the Pakistani city of Quetta, the former Taliban official said on condition of anonymity. It was unclear how he resurfaced as the leader of the Jaish-al Muslimeen.

Officials have expressed skepticism that the group could execute such a daring kidnapping, fueling speculation that militia commanders threatened by Karzai's election victory were involved.

Almeida e Silva wouldn't discuss whether the three kidnapped staffers had been involved in a contentious investigation into vote fraud alleged by rival candidates.

NATO and U.S. troops have helped mount extra patrols and roadblocks, and a senior police official said investigators have detained a string of people for questioning. "I think they (the hostages) could still be in Kabul," he said. "Very soon, I hope we'll get a break."

The crisis has stymied plans to celebrate Karzai's majority in the Oct. 9 vote. Election officials hope to announce the final result some time this week.

It has also shocked Kabul's 2,000-strong international community, already on edge after an Oct. 23 suicide attack killed an American woman outside a rug shop. Several aid groups have ordered their staff to venture out only to travel from home to office.





Today's Top News
Top World News

Two Chinese men to circle space for five days




Bush, Kerry in tight sprint to finish




New limits set on car fuel consumption




US trouser quota against WTO principles




Iran parliament OKs nuke enrichment bill




Poisonous gas gush kills 15 Chinese miners