Bush, Kerry in tight sprint to finish
(Agencies)
Updated: 2004-11-01 07:56
President Bush and Democratic Sen. John Kerry sprinted for the finish on Sunday in a deadlocked battle for the White House, as Kerry appealed for change and Bush asked voters to "stand with me."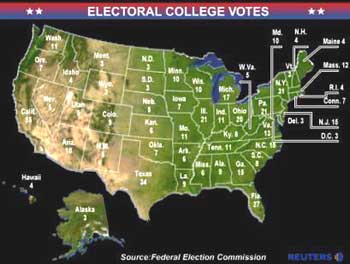 This graphic details the Electoral College vote count by state for the 2004 presidential election. [Reuters]

With a flurry of new polls showing the race an absolute dead heat, the candidates tried to fire up their base supporters and persuade undecideds as their eight-month battle for the White House wound down to an unpredictable finish.

At a rally in New Hampshire, Kerry said he could do a better job than Bush in Iraq and in fighting terror and said Americans faced a choice about the future on Tuesday.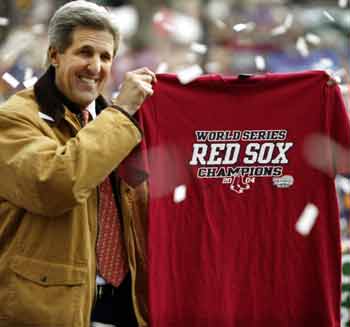 Democratic presidential nominee John Kerry holds up a Boston Red Sox tee-shirt, given to him by Red Sox team executives, at a campaign rally in Manchester, New Hampshire October 31, 2004. Kerry and President George W. Bush began a tense sprint to the finish Sunday in a deadlocked race for the White House, hunting for every last vote in the crucial showdown states of Ohio and Florida. [Reuters]

"All of the world is waiting for this country to find the path," Kerry told a rally in Manchester, New Hampshire, promising Americans "a country that understands how to lead by its moral strength and by its reasoning, not by ideological rigidity and by misleading."

Bush stayed on the offensive in Florida, urging supporters to "come stand with me" and repeating his attacks on Kerry as a weak-kneed and flip-flopping leader.

"If you believe America should fight the war on terror with all our might, and lead with unwavering confidence in our ideals, I ask you: Come stand with me," Bush said to roars at a rally in Miami after attending Catholic Mass at the home church of his brother, Florida Gov. Jeb Bush.

Several new polls showed the race deadlocked heading into the last two days. A Reuters/Zogby tracking poll showed Bush and Kerry in an exact tie at 48 percent each.

A few independent polls gave an edge to Bush, but two other polls, from Fox News and American Research Group, also showed a tie in a three-way race that included independent candidate Ralph Nader.

Bush and Kerry spent most of the day in the two biggest toss-up swing states -- Ohio and Florida -- and Kerry wedged in a stop in New Hampshire as they tried to piece together the 270 electoral votes needed to claim the presidency.

Kerry needs to win at least one of the two big toss-up states to have a realistic shot at the White House, and the race is close in both Florida and Ohio.

He reached out to blacks, the most loyal of Democratic voters, with a highly personal speech at a morning church service in Dayton, Ohio. He asked the churchgoers to enlist in his campaign for social and economic justice.

"That is the choice in this race," the Massachusetts senator told more than 1,000 parishioners crammed into a Baptist church. "It is a choice about what kind of country and society we'll have."

'FLIP-FLOP HALL OF FAME'

Bush said Kerry put himself into the "flip-flop hall of fame" after first voting for a version of an $87 billion funding bill mostly for the U.S. military in Iraq and then voting against it.

He told supporters at a rally in Tampa the stakes were high in Tuesday's voting. "The future safety and prosperity of America are on the balance," he said.

Americans also will decide who holds power in Congress and vote on governorships in 11 states on Tuesday, with Bush's Republicans favored to retain control of both the Senate and House of Representatives.

Nearly 2 million Floridians have cast early ballots in the election as officials across the country reported record levels of early voting. The watchdog group Common Cause, which set up a hotline to record complaints about voting problems, said it had received more than 53,000 calls nationally.

Both campaigns geared up armies of volunteers to help turn out voters in an election where an organized ground game could make the difference.

Kerry's running mate, John Edwards, told a predominantly black church in Jacksonville, Florida, to take advantage of early voting rules and cast ballots immediately after the service.

"There are forces, there are powerful forces, fighting against justice," Edwards said, referring to Florida's chaotic balloting and election recount dispute in 2000. "We're going to make sure your votes are counted this time."

Vice President Dick Cheney, who heads to Hawaii on Sunday for a quick visit to mobilize Republicans in the normally Democratic state, said in Ohio that Kerry was making "phony charges" and insulting troops by claiming Bush diverted resources from the hunt for Osama bin Laden in Afghanistan.

"Instead of praising their achievement, John Kerry harps away at phony charges," the vice president said in Swanton, Ohio.

Both camps expressed optimism about the outcome with a certainty that was not apparent in any public opinion polls. Bush political adviser Karl Rove said Kerry needed to sweep Ohio, Pennsylvania, Michigan, Wisconsin and Minnesota to have a shot.

"All we have to do is take one. And we're going to take more than one," Rove said.

Kerry adviser Joe Lockhart said the race would turn on 12 remaining battleground states "and we're tied or leading in 10 of them."

U.S. Short at Least 500,000 Poll Workers

A shortage of at least 500,000 poll workers nationwide means many voters could face long lines, cranky volunteers, polling places that don't open or close on schedule and the chance that results won't be known until long after the polls are closed.

Roughly 1.4 million people have been trained to serve as poll workers on Tuesday, about the same as four years ago, according to the U.S. Election Assistance Commission. But nearly 2 million will be needed to deal with expected heavy turnout, huge numbers of first-time voters and unfamiliar touch-screen machines in hundreds of counties.

Desperate for workers, the Election Assistance Commission urged businesses and federal agencies to give volunteers the day off with pay to staff the polls. But as the last deadline for training new workers passed Friday, critical shortages remained in many states.

"If the criminal justice system didn't have access to jurors, the criminal justice system wouldn't exist. Poll workers are just as important as jurors," said DeForest Soaries Jr., chairman of the EAC and former New Jersey secretary of state.

The shortage is acute in urban areas where workers should be able to speak multiple languages. Soaries is most worried about New York City, Washington, St. Louis, Chicago and Los Angeles.

Election officials also are struggling to motivate volunteers: For every three poll workers trained, only two show up on election day.

And in Los Angeles County, Registrar Connie McCormack estimates that one-third of the county's past volunteers don't return for a second election. In March 2002, 125 precincts opened late because no workers were available. The county, the nation's largest, tapped business owners, county workers, leaders of ethnic groups and even high schoolers to find the 25,000 poll workers it will need Tuesday.

This summer, the EAC launched a recruiting drive among federal workers, but of the 100,000 U.S. Department of Agriculture employees who received an e-mail Oct. 21 asking them to volunteer, only 14 signed up.

A looming threat for future elections, officials say, is that the most reliable volunteers are retirees. The EAC estimates that the average poll worker is 72 years old.

"I don't want to sound crass, but poll workers are passing on," said Michael Sciortino, president of the Ohio Association of Election Officials and director of the Mahoning County Board of Elections.

"Where's the next generation of poll workers?" asked Kay J. Maxwell, president of the U.S. League of Women Voters. "We need passion about this whole process and civic participation."

Florida, Arizona, Nevada and other Sunshine Belt states with low costs of living and plentiful housing have an ample supply of retirees. But their exodus drained the Eastern seaboard and upper Midwest of knowledgeable volunteers.

Election officials in Indiana wooed union members and unemployed factory workers with stipends of $75 for rank-and-file poll workers and $150 for precinct leaders. Kentucky officials asked sheriffs and judges to enlist volunteers and even recruited at summer festivals. A new Ohio law gives state and local government employees a paid day off to work the polls.

New York City pays among the best ¡ª up to $300 for a day's work at the polls. But the shift typically lasts from 5 a.m. until the polls close and votes are counted.

In California's San Luis Obispo County, Clerk-Recorder Julie Rodewald was able to get a raise for poll workers ¡ª to $97, plus $10 for attending a three-hour training course. She also created split shifts and flex time ¡ª a nod to stay-at-home parents who told her they could volunteer only during school hours.

"It definitely helped us, and since 2002 we've been able to get fully staffed polls, knock on wood," Rodewald said.

California's Santa Clara County recruits high school seniors with at least a 2.5 grade-point average. They'll be excused from class Tuesday to help ensure voters are at the right precinct, translate for voters who don't speak English and set up electronic voting machines.

"You don't have to be a genius to figure out how this stuff works," 18-year-old Jason Erikson said after watching the training video during his American government class at Leland High School.

But many election officials are concerned that the recruiting efforts could go too far.

Elections supervisor Ann Ward Bodenstein in Florida's Santa Rosa County said she would never recruit in a high school. She relies on the region's ample stock of military retirees.

"If you have a child trying to tell someone who fought in the Vietnam War what to do, that doesn't go over very well," Bodenstein said. "Really, they have no business being there if they're not registered voters."




Today's Top News
Top World News

Two Chinese men to circle space for five days




Bush, Kerry in tight sprint to finish




New limits set on car fuel consumption




US trouser quota against WTO principles




Iran parliament OKs nuke enrichment bill




Poisonous gas gush kills 15 Chinese miners