Bush, Kerry charge into final two days
(Agencies)
Updated: 2004-10-31 23:32
With the 2004 presidential race still a tossup, US President Bush and challenger Democrat John Kerry charged into the final two days of the contest trying to turn to their advantage an October surprise appearance by America's most hated enemy.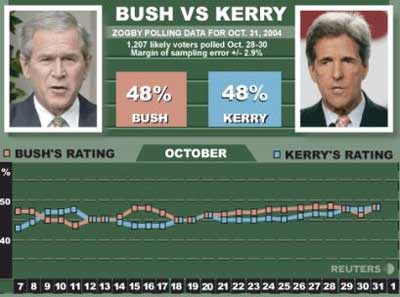 US President Bush and Democratic Sen. John Kerry are tied at 48 percent with two days remaining in the race for the White House, according to a Reuters/Zogby poll released on October 31, 2004. [Reuters]
"The terrorists who killed thousands of innocent people are still dangerous and they are determined," Bush told supporters at a campaign rally a day after a new videotape message from terrorist mastermind Osama bin Laden was broadcast.
On the stump just 25 miles from the president in eastern Wisconsin, Kerry responded to bin Laden's re-emergence with his months-old criticism of Bush's post-Sept. 11 tactics in Afghanistan, bin Laden's once and perhaps current home.
"As I have said for two years now, when Osama bin Laden and al-Qaeda were cornered in the mountains of Tora Bora, it was wrong to outsource the job of capturing them to Afghan warlords," Kerry said Saturday. "It was wrong to divert our forces from Afghanistan so we could rush to war with Iraq without a plan to win the peace."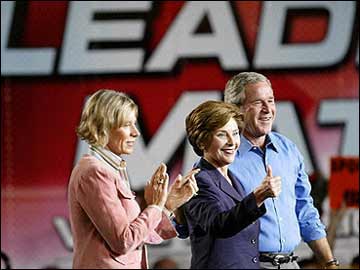 US President George W. Bush (R) and First Lady Laura Bush (C) are introduced by the Chair of the Michigan Republican Party Betsy DeVos (L) in Grand Rapids, Michigan. Bush said that the future of the war on terror would be at stake in the US election. [AFP]
The men were campaigning Sunday in tightly contested battleground states. Both had appearances scheduled in Florida and Ohio; Kerry was also speaking in New Hampshire.
A new poll showed the president moving ahead of Kerry in the popular vote, and Democrats said their private surveys hinted at momentum for Bush.
White House chief of staff Andrew Card, interviewed Sunday on CNN's "Late Edition," was confident in predicting a Bush victory.
"We've got over a million volunteers in key battleground states helping the president get the vote out,." he said. "I really see tremendous momentum for the president."
On the stump Saturday, the two candidates responded to the bin Laden tape in ways reflecting their long-held campaign strategies.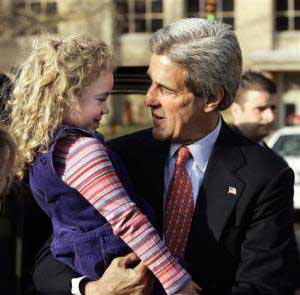 US Democratic Presidential candidate Sen. John Kerry, D-Mass., holds Catherine Allen, 4, after Sunday Services outside Holy Angels Church in Dayton, Ohio Sunday, Oct. 31, 2004. [AP Photo]
The president — who throughout the campaign has sought to deflect voter concerns about the war in Iraq, his handling of the economy and his job performance overall by fueling fears about terrorism — continued that theme.
At his first stop in GOP-leaning western Michigan, he reminded supporters of the 2001 attacks. "Americans go to the polls at a time of war and ongoing threats unlike any we have faced before," Bush said.
In response to the videotape, the Bush administration warned state and local officials that the tape may be intended to promote or signal an attack.
Kerry has tried to tap anti-war sentiment within the ranks of the Democratic Party while assuring swing voters that he would keep them safe. The decorated Vietnam War veteran pledged anew to "destroy, capture, kill Osama bin Laden and all of the terrorists."
With a touch of swagger, Kerry began one sentence by saying, "When I am president," and pledged to provide "leadership and hope" to U.S. troops seeking a quick return home from Iraq.

Today's Top News
Top World News

Two Chinese men to circle space for five days




New limits set on car fuel consumption




US trouser quota against WTO principles




AP: White House electoral race nearly tied




Poisonous gas gush kills 15 Chinese miners




Arafat feeling better, leukemia ruled out