Arafat feeling better, leukemia ruled out
(Agencies)
Updated: 2004-10-31 22:18
The ailing Yasser Arafat was feeling better and "more lively" Sunday, his top aides said, as doctors in France tried to determine if the Palestinian leader has a viral infection or some form of cancer after ruling out leukemia as the cause of his health crisis.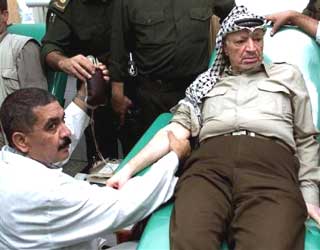 Palestinian leader Yasser Arafat donates blood at Shifa Hospital in Gaza City in this Wednesday, Sept. 12, 2001 file photo. Yasser Arafat's health worsened Wednesday Oct. 27, 2004 and a team of doctors went to his compound to examine the Palestinian leader, according to a Palestinian official close to Arafat. Arafat had been ill over the past two weeks, suffering from what Palestinian officials said was a lengthy bout of the flu. [AP]
The 75-year-old Arafat telephoned home to the West Bank and told his finance minister, Salam Fayyad, that he is "feeling well," Fayyad told The Associated Press.
Results from additional medical tests on Arafat are due Wednesday, his aide, Mohammed Rashid said in France. But Palestinian Cabinet minister Saeb Erekat told Israel's Army Radio on Sunday that Arafat's doctors would be getting results on tests and issuing a medical report in the next 48 hours.
Arafat, 75, was rushed Friday from Ramallah to a military hospital outside Paris after being ill for two weeks with what was initially described as a bad flu. He worsened Wednesday night, when he collapsed and briefly lost consciousness.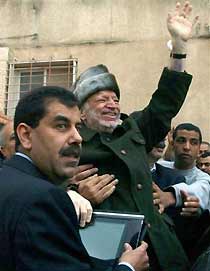 Palestinian leader Yasser Arafat greets wellwishers prior to his departure from the West Bank town of Ramallah in this picture released by the Palestinian Authority Friday Oct. 29, 2004. Arafat left for Paris, France, to seek urgent medical treatment for a serious illness. [AP Photo]

But his condition has improved markedly since Friday, said Palestinian Foreign Minister Nabil Shaath. Arafat ate cereal, milk and tea, said Shaath, speaking from Ramallah in the West Bank.

"He's much better, he's really much better, and he's more cheerful," Shaath said. "He's more lively. He's less tired."

Fayyad said Arafat called him to deal with a financial crisis and ensure that Palestinian Authority employees are paid on time, particularly with the holiday marking the end of the holy month of Ramadan approaching.

"Arafat told me, 'I am OK. I am feeling well. Please tell my brothers there that I am doing well,'" Fayyad said. "This phone call is clear proof that President Arafat is fully aware of what is going on around him ... He talked to me and he knew he was speaking to the finance minister. We were discussing details of things."

Shaath said examinations had ruled out leukemia "or any other cancer." However, no doctors or other specialists have publicly confirmed that conclusion. The only problem that has been announced is a low blood platelet count.

Platelets are blood components that aid clotting. A low count indicates a possible problem with the bone marrow, where blood cells are made. There are many causes of platelet decline, ranging in severity from minor to life-threatening.

Earlier, a Palestinian official who spoke on condition of anonymity had said there was a strong possibility Arafat was suffering from leukemia. But initial results from a battery of tests uncovered no signs of the malady, Palestinian officials said.

"Arafat does not have leukemia," Rashid said Saturday night. "It's been ruled out."

Now doctors were trying to determine whether Arafat was suffering from another form of cancer, a viral infection or some type of poisoning, Palestinian aides said.

"He is not suffering from any serious problem — his situation is curable; he will recover very soon. It is better than expected," Arafat spokesman Nabil Abu Rdeneh said Sunday.

In Israel, Prime Minister Ariel Sharon said Sunday that Arafat will not be permitted to be buried in Jerusalem if he dies.

Arafat has said he wants to be buried at the Jerusalem holy site known to Jews as the Temple Mount and to Muslims as the Haram as-Sharif, or Noble Sanctuary.

But Sharon said that would not be allowed. "As long as I am prime minister, Arafat won't be buried in Jerusalem," he told a Cabinet meeting, according to participants.

Israel has marked a possible burial site for Arafat in the Jerusalem suburb of Abu Dis, in the West Bank, security officials said.

Though hard-line ministers at the meeting asked Sharon to refuse to allow Arafat back into the West Bank, the premier said he was sticking by the commitment to allow Arafat to return from France after treatment.

Senior intelligence officials and representatives from the foreign and defense ministries briefed the Israeli Cabinet on Arafat's health and possible scenarios if he becomes incapacitated or dies.

Foreign Minister Silvan Shalom said Israel's army would "demonstrate restraint" in military operations in the West Bank and Gaza until the Palestinian leadership situation became clear.

"These are days of waiting, and during such days you act perhaps with a bit more caution," Shalom told Army Radio.




Today's Top News
Top World News

Palestinian president Arafat dies at 75




Taiwan makes bid to distort history




Industrial slow-down 'healthy'




New rules on organic pollutants kick in




Fallujah 'hostage slaughterhouses' found




80% senior citizens to live alone by 2010