Aide: Arafat does not have leukemia
(Agencies)
Updated: 2004-10-31 10:30
Medical tests carried out on ailing Palestinian President Yasser Arafat have ruled out leukemia or any other life-threatening condition, senior aides said on Sunday.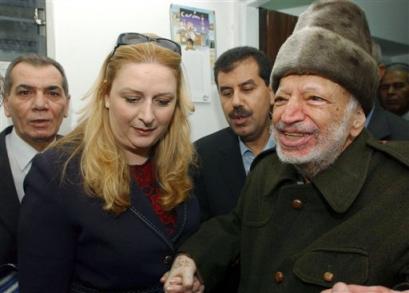 Palestinian leader Yasser Arafat and his wife Suha hold hands prior to Arafat's departure from his compound in the West Bank town of Ramallah in this picture released by the Palestinian Authority Friday Oct. 29, 2004. [AP]
"The latest tests have found that President Arafat does not suffer from any life-threatening illness and what he has is curable," senior aide Nabil Abu Rdainah told Reuters.
Arafat, 75, underwent tests and scans on Saturday at a French military hospital the day after being flown from his shell-battered compound in the West Bank city of Ramallah after his health deteriorated sharply.
Abu Rdainah said doctors had carried out tests for leukemia and found that the Palestinian president was not suffering from the blood cancer or any other critical illness.
Another aide said doctors were looking into the possibility of viral infection or poisoning. The final test results would be ready by Wednesday, the aide said, adding that until then Arafat's visitors would be limited to just a few people.
Mohammad Rachid, another aide, said Arafat was sleeping much better, eating moderately and keeping his food down.
Arafat had been vomiting and slipping in and out of consciousness before leaving Ramallah, Palestinian officials said last week, and his doctors in the West Bank had been unable to rule out leukemia or other blood disorders.
"Tests have found that he does not have leukemia, the doctors are looking at other possibilities," Rachid said.
Further tests were to be carried out on Sunday.
Leila Shahid, the permanent Palestinian envoy to Paris, was expected to pay another visit to Arafat's bedside at Percy Army Teaching Hospital in the Paris suburb of Clamart, which has a strong reputation for treating blood disorders.
Arafat was accompanied to the hospital by his wife Suha. He is due to be joined on Wednesday by his daughter Zahwa, who spoke to him by telephone from Tunis on Saturday.
The Palestinian president, effectively confined to his offices by Israeli forces for the past 2- years, agreed to fly to France only after Israel promised to allow him to return to the West Bank after treatment.
Arafat went into the French hospital with an abnormally low count of blood platelets, a condition that can be caused by leukemia but can also be a symptom of other grave ailments.
French doctors and authorities have declined to comment and say they will only do so once all checks are complete.
Arafat was brought to France on direct orders from President Jacques Chirac, whose line is that peace will be hard to achieve if a man who has for so long enshrined the Palestinian struggle for statehood is sidelined.
Fears of Chaos
His illness has raised fears of chaos among Palestinians.
The Palestine Liberation Organization's executive committee met without Arafat on Saturday for the first time in decades, determined to show it was business as usual.
"We are in touch with the president and still receiving his instructions as he is head of the Palestine Liberation Organization," PLO acting chairman Mahmoud Abbas, a former prime minister, said after the meeting.
The Palestinian legislative council was set to meet on Sunday too for a routine session.
Washington under George W. Bush has tried to shut Arafat out of the picture in the Middle East. Secretary of State Colin Powell has said, however, that he is pleased that Arafat is being treated at a sophisticated medical facility.
Officials in the West Bank have said Prime Minister Ahmed Qurie will run the day-to-day affairs of the Palestinian Authority in Arafat's absence.
In the event of Arafat's death, parliamentary speaker Rawhi Fattouh would replace him as Palestinian Authority president for a 60-day period, during which elections would be held.

Today's Top News
Top World News

Palestinian president Arafat dies at 75




Taiwan makes bid to distort history




Industrial slow-down 'healthy'




New rules on organic pollutants kick in




Fallujah 'hostage slaughterhouses' found




80% senior citizens to live alone by 2010