Drought hits Jiangxi Province
(Xinhua)
Updated: 2004-10-30 08:55
Drought in Jiangxi Province is affecting more than 202,000 hectares of crops and making it difficult to supply enough drinking water to 620,000 people and 260,000.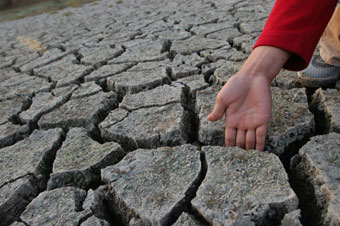 Severe drought has hit east China's Anhui Province as some rivers in the province dried up. [newsphoto]


The latest statistics from the provincial headquarters for flood control and drought relief show that average rainfall in the province over the past four months was 374 millimeters, only 88 percent of that in the same time in previous years.

Rainfall since late September has been only millimeters. In October, there has been no rain in three major cities including Jingdezhen, Yingtan and the provincial capital, Nanchang, while rainfall in the cities of Ganzhou, Jiujiang and Pingxiang was less than one millimeter.

As a result, nearly all local reservoirs fell short of sluice with 374 of them having dried up by the end of this month. The total volume of water held in water conservancy projects in the province is only 10.5 billion cubic meters, 580 million cubic meters less than the average of the past years.

Local meteorological departments predict there will be only 80 millimeters to 90 millimeters of rainfall in next two months, and governments at various levels have been required to strengthen control over water to ensure the supply of drinking water, look for new water sources and save water.




Today's Top News
Top China News

Bin Laden says he ordered 9/11 attacks




Priority given to efficient hydropower




IOC endorses 'frugal' Games campaign




Body resembling Japanese hostage found in Iraq




Sustainable agriculture crucial for progress




Hu urges Pakistan to protect Chinese citizens