Arafat arrives in Paris for treatment
(Agencies)
Updated: 2004-10-29 20:25
A French military jet carrying an ailing Yasser Arafat landed Friday at an airfield outside Paris, bringing the Palestinian leader for treatment of a mysterious illness.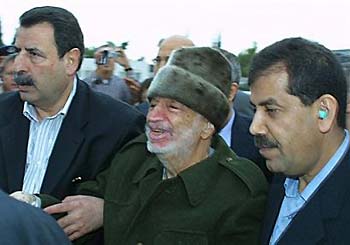 Palestinian leader Yasser Arafat [C], is escorted from a Jordanian military helicopter to a French hospital plane at the Jordanian military airbase in Amman, Jordan, Friday Oct. 29. 2004. Arafat flew to Paris for urgent treatment of a serious illness Friday, breaking free from nearly three years of Israeli-imposed confinement at his battered compound. [AP]


The 75-year-old Arafat, leaving his headquarters compound in the West Bank city of Ramallah for the first time in nearly three years, was to be rushed by ambulance to the Hopital d'Instruction des Armees de Percy, southwest of Paris.

The facility is a military facility with a major trauma center that also specializes in the treatment of blood disorders, said Christian Estripeau, head of communications for military health services.

Arafat has been sick for the past two weeks and blood tests have revealed he has a low platelet count — a possible sympton of leukemia or other cancers or a number of other maladies. Doctors said they need to run more tests to find the cause.

Arafat's personal physician, Dr. Ashraf Kurdi, ruled out leukemia on Thursday. However, an Arafat confidant, Dr. Ahmed Tibi, said Friday that "at this point, no possibility has been eliminated." Tibi, an Israeli Arab legislator, said Israeli intelligence officials have speculated that Arafat might be suffering from leukemia and he indicated that Arafat might have some symptoms of the disease.

The French Defense Ministry confirmed that the flight that arrived in the afternoon was carrying Arafat.




Today's Top News
Top World News

Palestinian president Arafat dies at 75




Taiwan makes bid to distort history




Industrial slow-down 'healthy'




New rules on organic pollutants kick in




Fallujah 'hostage slaughterhouses' found




80% senior citizens to live alone by 2010