EU leaders to sign constitution today
(Agencies)
Updated: 2004-10-29 16:12
Europe's first constitution faces an uncertain future long after the ink dries on Friday's signatures.
After more than two years of difficult negotiations, European leaders gathered for the historic ceremony in a frescoed room in a palace on Rome's Capitoline Hill.
They included the leaders of four EU candidates — Romania, Bulgaria, Turkey and Croatia — as well as the heads of state of the EU's 25 member nations.
The landmark document is designed to accelerate decision-making and give Europe a sharper profile on the world stage.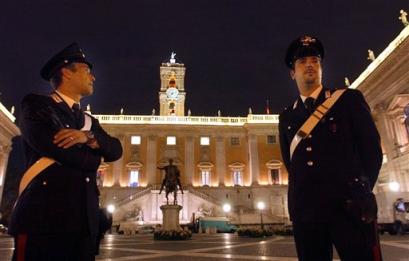 Italian carabinieri patrol Rome's Capitoline Hill square, designed by Michelangelo, Thursday, Oct. 28, 2004, the night before the signing of the first ever EU Constitution. Representatives of 25 countries will sign the document after negotiations, which lasted 28 months, and were difficult, especially over whether the constitution should refer to Europe's Christian roots. The EU leaders approved the charter last June. [Reuters]

Neither the ambitious document idealists had hoped for, nor the blueprint for a European superstate skeptics warned against, the constitution must be ratified by each of the EU's member nations before it can take effect.

At least nine countries — Denmark, Spain, France, Ireland, Luxembourg, the Netherlands, Portugal, the Czech Republic and Britain — plan to put it to a referendum. A single 'no' would stop the constitution in its tracks.

The negotiations bogged down often, especially over questions of power-sharing and whether the constitution should refer to Europe's Christian roots. The EU leaders approved the charter last June.

On Thursday, Pope John Paul II again criticized the EU for erasing any mention of the role of Christianity in European history, calling it "an undeniable fact that no historian can forget."

The constitution's principle aim is to provide simpler voting rules to end gridlock in a club that ballooned to 25 members this year with plans to absorb half a dozen more. It includes a charter of fundamental rights, new voting rules and new powers for the 732-member European Parliament.

National vetoes will be lifted in 45 new policy areas — including judicial and police cooperation, education and economic policy — but not in foreign and defense policy, social security, taxation and cultural matters.

The historic summit came amid sharp disagreement over Rocco Buttiglione, an Italian nominee for EU justice commissioner

Opposition flared among EU lawmakers after Buttiglione, a conservative Catholic and papal confidant, said homosexuality was a sin and that women were better off in marriage and at home.

Incoming European Commission President Jose Manuel Barroso on Thursday sought to ease conflict over his proposed executive team by discussing changes with EU leaders.

Barroso withdrew his proposed team minutes before lawmakers were to vote on it Wednesday and asked the EU assembly for more time to overcome the questions over Buttiglione and others.

Italian Premier Silvio Berlusconi, who nominated Buttiglione, has been left with a tough choice over whether to continue backing him.

"The solution will come from the contacts that Barroso now has the chance to make," Berlusconi said in an interview published in La Stampa newspaper Thursday.

Across Europe, officials insisted the delayed vote was a victory for democracy.

"The parliament has showed that it is not a toothless tiger," incoming EU industry commissioner Guenter Verheugen told Germany's ZDF television network.

Romano Prodi, the outgoing European Commission president whose team will stay on until its succession is sorted out — said he was "optimistic (the EU leaders) will find an agreement."




Today's Top News
Top World News

Interest rates raised for first time in a decade




Beijing Olympic venues on schedule, IOC told




Traffic law shores up road safety




China takes firm stance on arable land




More job vacancies reported in third quarter




Iraq expected to dog next president