Twinkle, twinkle, diving stars
(City Weekend)
Updated: 2004-10-29 15:13
Are it-couple of China's dive scene Tian Liang and Guo Jingjing an item?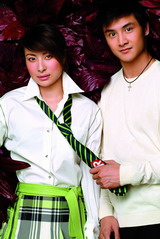 Tian Liang (R) and Guo Jingjing [baidu]

The dust of the Olympic Games in Athens has settled, and China's glorious athletes are back home, to face a seemingly endless round of celebrity interviews, paparazzi lenses, and gossip scandals.

In Sydney in the year 2000, diver Fu Mingxia secured four gold medals - and sprang into the gossip headlines when she first showed up at a press conference in trousers covered in English obscenities, and then embarked on a series of high glamour relationships.

While divers Guo Jingjing (gold medal, women's 3m synchronized springboard dive) and Tian Liang (silver medal, men's 10m platform dive) may not have equaled Fu's athletic record, it seems that they're similarly destined for the media spotlight.

Guo and Tian grew up together as young members of the national dive squad; pundits enjoy referring to them as "liang jing jing" (亮晶晶) - a combination of their names, meaning "bright and sparkly". And so, many hope, romance will sparkle and crackle between the pair.

And so, China's reporters want nothing more than to train their camera lenses on them to record even the slightest shift in their affections.

So far, the shining stars are seldom apart, from their dazzling celebration parties to their glittering joint press conferences.

Then again, there need to be doubts for rumors to flourish. Two weeks ago, Guo was seen in intimate mood with Hong Kong social luminary Kenneth Fok - grandson to businessman Ying Tung-fok, and brother to the man spotted dancing seductively with Zhang Ziyi at a Louis Vuitton party in Hong Kong.

When diver Tian was shown a photograph of the pair together, his face visibly paled, although asserted on the next beat that Guo was not his girlfriend, and that she was free to do as she chooses.

In an interview with the Chinese edition of OK! magazine, he claimed, "I have no girlfriend, and I grew up with Jingjing, so we know each other really well." He continued that "when I have problems, Jingjing is the first person I want to talk to - but she's not my girlfriend."

And so, Huo continues to chase after Guo, who insists she won't become another Fu Mingxia - and plans to remain focused on diving. But will she really?




| | |
| --- | --- |
| | |
| Twinkle, twinkle, diving stars | |

| | |
| --- | --- |
| | |
| Sex exhibition opens in Beijing | |

| | |
| --- | --- |
| | |
| Sylvia Chang TalkAsia interview | |
Today's Top News
Top Life News

Interest rates raised for first time in a decade




Beijing Olympic venues on schedule, IOC told




Traffic law shores up road safety




China takes firm stance on arable land




More job vacancies reported in third quarter




Iraq expected to dog next president