Schooling fails to make the grade
By Qiu Quanlin (China Daily)
Updated: 2004-10-29 14:38
People looking to buy new commercial apartments in the developing districts in Guangzhou always have one common concern: whether good, affordable schools are available there.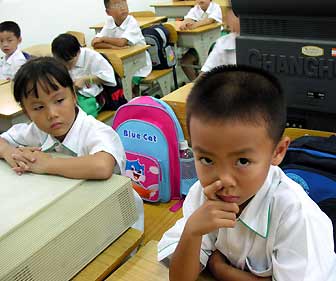 Students wait to have their first lecture at a new primary school in Guangzhou's Liwan District, one of the oldest districts in the city. Residents in the city's newly developed area face a schooling problem for their children. [newsphoto]
While the pace of the city's urbanization has brought relatively convenient lifestyles to residents in the new towns, the lack of public education facilities is troubling some of them.
Zhang Xinquan, a resident in Huanan New Town of the city's Panyu District, is one of them.
Zhang bought an apartment of 110 square metres in the Huanan New Town early this year.
But he didn't know what to do about the schooling of his four-year-old son.
Zhang thought that public schools, which have implemented the all-in-one payment system of school fees in Guangzhou, would be his best choice.
Under the system, average school fees are about 200 yuan (US$24.2) a term.
But there are no public schools in the neighbourhood.
A private school in the same area would cost him more than 7,000 yuan (US$846.4) per term, almost 35 times a public school's.
School fees in private schools built by developers are known to be as high as 10,000-20,000 yuan (US$1,209-2,418) per term.
"The educational fees in such schools are too high for us," said Zhang.
Zhang works in a foreign-funded company in the downtown area of Guangzhou. His monthly income is about 5,000 yuan (US$605).
In the end, he had to send his son to another private school, far away from his home. The fees there were 1,530 yuan (US$185) a term.
Zhang is not alone. Thousands of new residents in commercial buildings in the city have the same headaches concerning their children's education.
The dilemma stems from a lack of cash in the local educational department to establish new schools in the new districts.
"The government fails to attach adequate importance to the basic facilities or functions of commercial real-estate projects during the expansion of urban areas," said Wang Xiangdong, a professor with Guangzhou-based Zhongshan University.
Either that - or they go the other way. In a bid to attract residents, some property developers co-operate with private schools to build expensive institutes that people simply cannot afford the fees for.
"Education, especially compulsory education, should target the public and, as a result, the government should be responsible for making sure there are enough schools for children," said Wang.
Yet the costs of establishing schools in the new towns have in turn been a headache for the government.
According to Zheng Liyan, an official at the educational bureau of Guangzhou's Tianhe District, the annual costs of running a primary school are more than 1 million yuan (US$120,900).
"Most fiscal incomes are used in operating existing public schools and we simply don't have enough money to build new ones," said Zheng.
Migrant burden
The increasing number of migrant workers settling in the new districts increases the burden on local authorities to find school places for their children.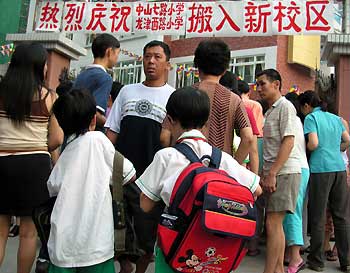 Students and their parents crowd the gate of a new primary school in Guangzhou's Liwan District. [newsphoto]
Official statistics show that Guangzhou has more than 262,000 children from migrant families, 250,000 of whom are of school age.
Most migrant families settled in the Panyu, Baiyun and Tianhe districts, where a great number of new residential communities have emerged in recent years.
The number of children of migrant families is expected to increase by 10 per cent a year.
"Schools can hardly meet their educational demand," said Zheng.
And this is where real estate developers step in.
The Guangzhou municipal government said early in 1996 that developers should provide basic educational facilities for their tenants.
The permanent rights of these educational facilities should be run by the government.
Real frustration
Mai, a real-estate developer, has developed commercial buildings in the city's Panyu District.
Mai said his company had invested millions of yuan in establishing a school in 2003.
In September, the school opened after Mai signed a contract with a local middle school that agreed to jointly run it.
The school introduced two systems of educational fees: residents living in Mai's project are subject to the standard of compulsory education fees, while others have to pay 2,000-3,000 yuan (US$242-263) per semester.
If the school should run out of money within the first three years, Mai has pledged to put more in. Mai could have problems, given that other private schools set up by estate agents have run into difficulties trying to keep afloat.
Some schools in the city do not have enough students because of their high school fees.
"The best way to run the school is to hand it over to the government, but the government also has problems keeping the school running," said Mai.
Mai's remarks were echoed by Cai Huisheng, vice-director of Guangdong Provincial Real Estate Association.
Cai said the government should make efforts to build some basic facilities, such as schools and hospitals, in the commercial building areas after the real estate projects are completed.
Cai suggests that the government increase the land rent and use fees for property agents, and use it for new schools.
The Guangzhou Bureau of Education, together with the Panyu and Baiyun educational departments, have organized a team to look into the situation.
"We will wait for the results then look at whether to set up public schools," said an official surnamed Tan with Guangzhou Bureau of Education.
Tan said a new management regulation is expected to take effect after the investigation, and will state clearly who has what responsibility in terms of building schools.
"The regulation will sort out the confusion," said Tan.

Today's Top News
Top China News

Interest rates raised for first time in a decade




Nation takes firm stance on arable land




Iraq expected to dog next president




More job vacancies reported in third quarter




China raises pension for enterprise retirees




Traffic law shores up road safety