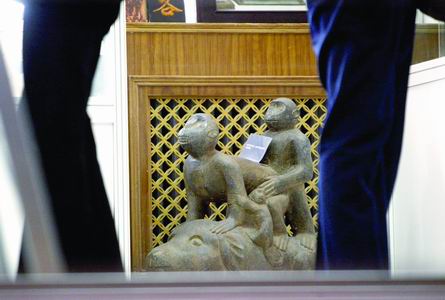 The stone statue featuring a couple's intercourse on display is a trademake for ancient brothel. [sohu]
A show featuring sexual objects of worship and pleasure opened Thursday in Beijing in honor of men's sexual health day, a year after huge crowds caused the 2003 show to shut down, official media reported.
The Sex and Health Popular Science Exhibit opened at a nine-chamber hall in a Beijing suburb is bigger than the 2003 show, China News Service reported.
This year's show, sponsored by a district government and Beijing Sexual Health Education and Research Association, will not be open to the public but to family planning specialists and their relatives.