Three Palestinians, Israeli soldier die in violence
(Agencies)
Updated: 2004-10-29 09:25
Israeli troops shot dead three Palestinians, including a 10-year-old girl, in occupied territories on Thursday and Islamic militants killed a soldier in a raid on a Jewish settlement, witnesses and the army said.
Witnesses said troops stationed outside Khan Younis refugee camp in Gaza killed the girl as she walked to school. Military sources said troops shot back after coming under mortar fire and that the girl's death was being probed.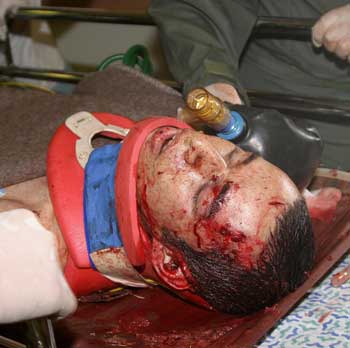 An injured Israeli soldier is rushed into the Soroka hospital in the southern Israeli city of Beersheva after being evacuated from Gaza Strip, October 28, 2004. [Reuters]

Hours later, mortar fire at the garrison at Morag settlement in Gaza killed a soldier and wounded six others, the army said. Hamas, an Islamic militant group spearheading a 4-year-old Palestinian uprising, claimed responsibility.

In the West Bank city of Qalqilya, Israeli forces killed a senior Hamas militant, the army said.

At the nearby Jenin refugee camp, troops on a hunt for militants shot dead a 17-year-old Palestinian. The army said the youth was armed with a gun but Palestinian witnesses said he only threw rocks at the soldiers.

Palestinians want the West Bank and Gaza, territories captured by Israel in the 1967 Middle East war, for a state.




Today's Top News
Top World News

Palestinian president Arafat dies at 75




Taiwan makes bid to distort history




Industrial slow-down 'healthy'




New rules on organic pollutants kick in




Fallujah 'hostage slaughterhouses' found




80% senior citizens to live alone by 2010