Oil slumps below $51 a barrel
(Agencies)
Updated: 2004-10-29 09:17
Oil prices extended a two-day slide on Thursday that has sliced more than 8 percent from the cost of a barrel, as rising U.S. crude supplies eased fears of a winter fuel crunch and China moved to slow its runaway economic growth.
Big money funds were also seen selling off some speculative long positions due to uncertainty before the U.S. presidential election on Tuesday, oil traders and analysts said.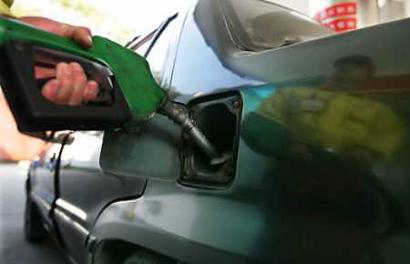 A worker pumps fuel into a vehicle at a gas station in Beijing, October 27. [Reuters]

U.S. light crude futures dropped $1.54 to $50.92 a barrel, falling below $51 for the first time in three weeks and extending a slide that has pushed prices well-below the record high $55.67 hit earlier this week.

London Brent crude fell $1.08 to $48.37 a barrel, more than $3.50 below Wednesday's all-time high $51.94.

The losses extended a downswing triggered by a report from the U.S. government on Wednesday showing crude oil inventories in the world's biggest energy consumer rose 4 million barrels last week, narrowing the supply deficit against last year.

"Crude imports are being carried steadily higher by rising OPEC output, while refineries are returning from maintenance more slowly than expected," said Deborah White, senior economist at SG Commodities.

The larger-than-expected build in inventories cooled some concerns in the market that the United States may face short-supply once cold weather leads homeowners to fire up their furnaces for the winter.

Distillate supplies in the United States, including heating oil and diesel, are running about 12 percent below year-ago levels and have been slow to rebound due to strong trucking demand and disruptions to energy operations in the Gulf of Mexico after Hurricane Ivan.

Adding to pressure, China's central bank raised interest rates for the first time in nearly a decade on Thursday in a surprise move aimed at guiding its heated economy onto a path of slower growth.

Staggering increases in energy demand from China have been a driving force in this year's 60 percent spike in crude oil costs.

"This may be another piece of evidence that the slow-growth people (in China) are winning the debate. It's significant, but it's easy to overrate its significance," said Dave Larson, director of PFC Energy.

There were also signs of large speculative hedge funds, which have boosted their presence on energy markets amid paltry returns in other areas, moving some resources out of oil toward equities and the U.S. dollar.

Funds were in part taking the opportunity to lock in profits ahead of next week's U.S. election, traders said. Some speculate that a victory for President Bush could bolster oil's rally, while a win for challenger John Kerry could ease prices.

"We're seeing some fund realignment at the moment. People are moving money out ahead of the U.S. election." said an oil trader with a major bank in Singapore.




Today's Top News
Top World News

Interest rates raised for first time in a decade




Nation takes firm stance on arable land




More job vacancies reported in third quarter




China raises pension for enterprise retirees




Traffic law shores up road safety




Sick Arafat heads to Paris, cancer suspected