Yasser Arafat in serious condition
(Agencies)
Updated: 2004-10-28 15:26
Yasser Arafat was in serious condition after collapsing and briefly losing consciousness, as his persistent, two-week illness took a sudden turn for the worse.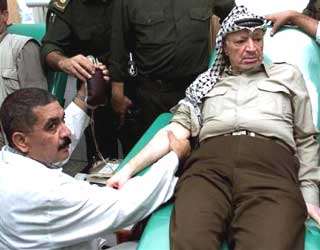 Palestinian leader Yasser Arafat donates blood at Shifa Hospital in Gaza City in this Wednesday, Sept. 12, 2001 file photo. Yasser Arafat's health worsened Wednesday Oct. 27, 2004 and a team of doctors went to his compound to examine the Palestinian leader, according to a Palestinian official close to Arafat. Arafat had been ill over the past two weeks, suffering from what Palestinian officials said was a lengthy bout of the flu. [AP]
Aides urgently summoned doctors from Jordan, and the 75-year-old Palestinian leader's wife was heading here from Paris to be by his side.
Fearing for Arafat's health, scores of top Palestinian officials descended late Wednesday on the sandbagged, partially demolished compound where he has been confined for 2 1/2 years.
Communications Minister Azzam Ahmed said that Palestinian leaders had asked all the members of Arafat's Fatah party living abroad to come to Ramallah.
"We are preparing ourselves for everything possible," he told the Al-Jazeera satellite television station.
Arafat was eating soup during a meeting with Palestinian Prime Minister Ahmed Qureia, former Prime Minister Mahmoud Abbas and another official between 8 p.m. and 9 p.m. when he vomited, according to a bodyguard who was in the compound at the time.
Arafat was taken to the clinic inside the compound, where he collapsed and fell unconscious for about 10 minutes, the guard said. His doctors were urgently summoned, and a sense of fear fell over the Palestinian leadership.
A senior Palestinian official, speaking on condition of anonymity, said Arafat was in serious condition.
An official in Arafat's office said the Palestinian leader had created a special committee composed of Qureia, Abbas, and Salim Zaanoun, head of the Palestinian National Council, to run the Palestinian Leadership Organization and the Palestinian Authority while he is ill.
But when asked if Arafat had set up such a committee, Arafat spokesman Nabil Abu Rdeneh said: "Nothing like that."
White House spokesman Scott McClellan, traveling in Michigan with US President Bush, said U.S. officials were monitoring the situation.
Israel Radio reported that the army was preparing contingency plans should Arafat die, fearing an outbreak of unrest across the West Bank and the Gaza Strip.
A senior official in Israeli Prime Minister Ariel Sharon's office said the Palestinians had asked Israel to allow foreign doctors to treat Arafat.
"The prime minister immediately instructed the security officials and others involved to facilitate the transfer and any medical equipment and facilities Arafat might need," the official said, adding that Israel would also allow Arafat to be transferred to any medical facility in the world.
Israeli security officials said Arafat's wife, Suha, who lives in France with their young daughter, was expected to arrive Thursday.
Arafat has been ill for two weeks, but reports about his ailment have varied widely.
Palestinian officials said he had the flu. Israeli officials speculated he might have stomach cancer, but two of his doctors said Wednesday a blood test and a biopsy of tissue from his digestive tract showed no evidence of that.

On Tuesday, a hospital official said Arafat was suffering from a large gallstone. The gallstone, while extremely painful, is not life-threatening and can be easily treated, the official said.
Dr. Ashraf Kurdi, head of the Jordanian team summoned to Ramallah, told The Associated Press that he was urgently summoned to Arafat's compound but was given no details by Arafat's aides.
"I tried to get a medical report from them. I couldn't get anything," he said.
Israeli officials speculated that Arafat had suffered a stroke. He has shown symptoms of Parkinson's disease since the late 1990s.
Arafat has not left his compound since 2002 for fear of being snatched by Israeli troops. Israel, which accuses Arafat of stoking violent attacks against it, has previously said Arafat was free to leave the compound and even travel abroad, but it would not guarantee he would be allowed to return.
During Arafat's long confinement in the compound, doctors equipped two rooms with medical equipment, including X-ray, ultrasound machines and emergency resuscitation gear.
Arafat's health crisis has highlighted how unprepared the Palestinians are for their leader's death, making a chaotic transition period all but inevitable. Arafat has refused to groom a successor, fearing an impatient protege could turn on him.
No leader of Arafat's stature and popularity is waiting in the wings, said Palestinian legislator Hanan Ashrawi. "It's only natural to expect that there would be either a power struggle or there would be a loss of cohesion," she said.
Rival security chiefs are already battling each other in the streets, and analysts said it could take years for a leader to emerge, hurting prospects for an Israeli-Palestinian peace deal.
On paper, at least, a path of succession has been charted.
The parliament speaker would replace Arafat as Palestinian Authority president for 60 days, until elections are held.
However, current speaker Rauhi Fattouh is a bland backbencher uncertain to hold on during a turbulent transition period, and timely elections appear unlikely.
Arafat's other post, as PLO chief, would be filled, at least temporarily, by his deputy in the organization, Mahmoud Abbas, a former prime minister who resigned last year after power struggles with Arafat.
Barry Rubin, an Israeli biographer of Arafat, predicts it would take several years before a real leader emerges.
"As long as the battle goes on, no one can make decisions, especially moderate or compromise decisions," Rubin said. "This means the chances of a negotiated peace are close to zero."
Today's Top News
Top World News

Palestinian president Arafat dies at 75




Taiwan makes bid to distort history




Industrial slow-down 'healthy'




New rules on organic pollutants kick in




Fallujah 'hostage slaughterhouses' found




80% senior citizens to live alone by 2010