Reuters: Bush leads Kerry by one point
(Agencies)
Updated: 2004-10-28 09:50
US President Bush held a one-point lead over Democratic rival John Kerry nationwide but Kerry gained a slight advantage in the showdown state of Ohio, according to Reuters/Zogby polls released on Wednesday.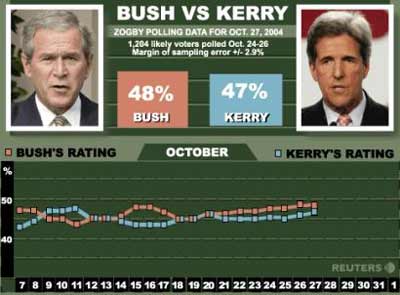 US President Bush leads Democratic rival John Kerry by 1 point with six days left in a tight race for the White House, according to a Reuters/Zogby poll released October 27, 2004. Bush led Kerry 48-47 percent in the latest three-day national tracking poll, as the Massachusetts senator gained 2 points on Bush in a day. [Reuters]
Bush led Kerry 48-47 percent in the latest three-day tracking poll across the United States, well within the margin of error, as the Massachusetts senator gained two percentage points on Bush in a day. Bush led Kerry 49-46 percent on Tuesday.
"Today was a big day for Kerry," pollster John Zogby said.
Kerry also moved into a 46-45 percent lead in Ohio, gaining three points on Bush, and led 49-46 percent in Pennsylvania. But Bush led 48-46 percent in Florida and moved into a dead heat with Kerry in Michigan, a state that Kerry led by 10 points just three days ago.
Bush had a solid 51-44 percent lead on Kerry in Nevada, but all of the other results in the 10 battleground states were within the state polls' margin of error of plus or minus 4.1 percentage points.
Kerry also led in Colorado, Minnesota and Wisconsin, and Bush led in New Mexico. Iowa and Michigan were tied.
Kerry has consolidated his base of support nationally just as Bush did early in the race, taking a 2-to-1 lead among Hispanics, 90 percent of blacks, 84 percent of Democrats, 55 percent of union voters and 65 percent of singles.
Only 4 percent of likely voters remain undecided.
At this stage of the 2000 election, Bush led Democrat Al Gore by five points in the daily tracking poll.
The number of likely voters who thought Bush deserved re-election, 48 percent, was equal to those who wanted someone new. Bush's presidential performance was rated as excellent or good by 49 percent, and 51 percent said it was only fair or poor.
The national poll of 1,203 likely voters was taken Sunday through Tuesday and has a margin of error of plus or minus 2.9 percentage points. The rolling poll will continue through Nov. 1 -- the day before the election.
Ohio, Florida, Pennsylvania and Michigan, with a combined 85 electoral votes, are the biggest prizes remaining among toss-up states as the rivals try to reach the 270 electoral votes needed to win the White House.
The polls of about 600 likely voters in each of the battleground states were taken Sunday through Wednesday.
The state-by-state results: In Colorado, Kerry led 50-46 percent; Florida, Bush 48-46 percent; Iowa, tied 45 percent; Michigan, tied 47 percent; Minnesota, Kerry 47-44 percent; New Mexico, Bush 47-44 percent; Nevada, Bush 51-44 percent; Ohio, Kerry, 46-45 percent; Pennsylvania, Kerry 49-46 percent; and Wisconsin, Kerry 50-46 percent.
Today's Top News
Top World News

Making of anti-trust law is speeded up




One-China policy key to talks with Taipei




Powell remarks consistent with policy




Arafat collapses as his health worsens




Police: "Pessimistic" man set off bus blast




IOC warns against Olympic venue delays