Bush, Kerry slug it out over missing Iraqi explosives
(Agencies)
Updated: 2004-10-28 09:22
A missing stash of explosives in Iraq held center stage again in the steamrolling US election campaign, with challenger John Kerry hammering President George W. Bush for "dodging" the issue and Bush dismissing the allegations as "wild charges."
With the prize in sight just six days to the November 2 vote, the candidates whistle-stopped through key battleground states in America's heartland, Bush in Pennsylvania, Ohio and Michigan, Kerry in Iowa and Minnesota.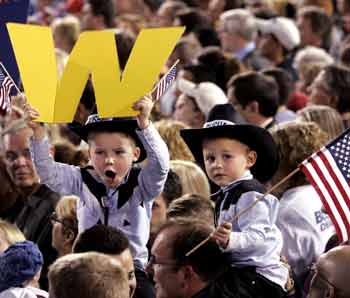 Two young boys sporting cowboy hats anxiously await the arrival of U.S. President George W. Bush at a campaign rally in Pontiac, Michigan, October 27, 2004. President Bush and Democratic opponent, Massachusetts Sen. John Kerry, battled on Wednesday over missing explosives in Iraq as they raced across vital swing states in the last days of a deadlocked White House race. [Reuters]

Kerry fired the day's first shot on the explosives issue in Iowa, accusing the Republican incumbent of "dodging and bobbing and weaving," and demanding hard answers.

Three hours later, after flying on to Minnesota, he pounced on Bush's first comments on the controversy, in which the president accused the veteran US senator from Massachusetts of throwing around "wild charges."

"Mr. President, for the sake of our brave men and women in uniform, for the sake of those troops who are in danger... you owe Americans real answers about what happened, not just political attacks," he said in a Rochester, Minnesota, sports arena packed with at least 10,000 supporters.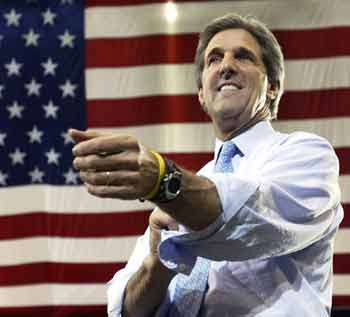 Democratic presidential nominee John Kerry rolls up his shirt sleeves at a campaign rally in Cedar Rapids, Iowa October 27, 2004. President George W. Bush held a one-point lead over Democratic rival John Kerry nationwide but Kerry gained a slight advantage in the showdown state of Ohio, according to the latest Reuters/Zogby poll. [Reuters]

"Your administration was warned, you were put on notice but you didn't put these explosives on priority lists, you didn't think it was important," said the Democratic senator from Massachusetts.

"You didn't give the troops the instructions they need, you didn't guard the ammunition dumps and now our troops are at greater risk.

"This is a growing scandal and the American people deserve a full and honest explanation of how it happened and what the president is going to do about it, said Kerry.

The UN nuclear watchdog this week said the 350 tonnes of explosives in question went missing from a weapons dump south of Baghdad some time after Saddam Hussein's regime was toppled in April 2003 by the US-led invasion.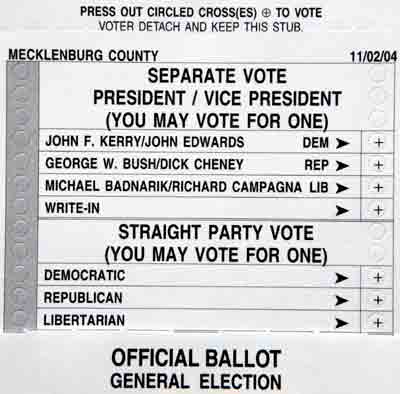 An absentee paper ballot shows the choices for President of the United States available to North Carolina residents in the upcoming presidential election, October 27, 2004. Many people concerned about the possibility of new touch-screen voting machines not properly counting their votes are reportedly choosing to vote by paper absentee ballots instead. [Reuters]

But Bush said it was still unclear what happened to the explosives, which the United Nations warned could be used in conventional bombs or to trigger a nuclear advice.

"The senator is making wild charges about missing explosives," Bush said as he campaigned through Pennsylvania.

"Think about that: The senator is denigrating the action of our troops and commanders in the field without knowing the facts."

"Unfortunately, that's part of a pattern of saying almost anything to get elected," said the president, whom Kerry has accused of incompetent war planning.

Bush did not directly address the substance of the claims, saying only that the government was investigating a "number of possible scenarios, including that the explosives may have been moved before our troops even arrived at the site."

"This investigation is important, and a political candidate who jumps to conclusions without knowing the facts is not the person you want as your commander in chief," said Bush.

Kerry accused Vice President Dick Cheney of "becoming the chief minister of disinformation."

Cheney brushed Kerry off as "an armchair general."

Kerry meanwhile began making inroads among swing voters, according to a poll released Wednesday.

The Pew Research Center said the senator had made "more substantial gains" than the president among a sample of 519 swing voters who were first interviewed in September.

A follow-up survey conducted last Thursday to Monday found 52 percent had firmed up their preference since September while 48 percent were still uncertain how they would vote in Tuesday's election.

A top Iraqi science official said Wednesday the 350 tonnes of high explosives could not have been smuggled out of the military site south of Baghdad before Saddam Hussein was ousted.

Mohammed al-Sharaa, who heads the science ministry's site monitoring department and worked with UN weapons inspectors under Saddam, said "it is impossible that these materials could have been taken from this site before the regime's fall."

He said he and other officials had been ordered a month earlier to ensure that "not even a shred of paper left the sites."

"The officials that were inside this facility (Al-Qaqaa) beforehand confirm that not even a shred of paper left it before the fall and I spoke to them about it and they even issued certified statements to this effect which the US-led coalition was aware of."

The dump, Al-Qaqaa, is 30 kilometers (18 miles) south of Baghdad.

The bulk of materials in question include HMX (high melting point explosive) and RDX (rapid detonation explosive), which can be used in major bombing attacks, making missile warheads and detonating nuclear weapons.




Today's Top News
Top World News

Two Chinese men to circle space for five days




Bush, Kerry in tight sprint to finish




New limits set on car fuel consumption




US trouser quota against WTO principles




Iran parliament OKs nuke enrichment bill




Poisonous gas gush kills 15 Chinese miners