Director's cut appeals to the heart
(China Daily)
Updated: 2004-10-28 08:46
When young director Lu Chuan's "Hoh Xil: Mountain Patrol" (Kekexili) was released nationwide in early October, few believed it would live up to expectation as the much-hyped Hong Kong filmmaker Wong Kar-wai's old Shanghai romance "2046," and Jackie Chan's Hollywood style action flick "New Police Story" were being screened.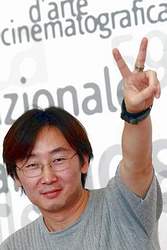 Film director Lu Chuan [sina]

In some parts of the country, "Hoh Xil" was elbowed to a limited number of small theatres and in some other parts, the screening date of the film was postponed to late October in order to avoid face-to-face competition with blockbuster films.

It was reported that many Beijing cinemas have shown the two films since October 1 in the ratio of two "Hoh Xil" for every 25 "2046."

Meanwhile, Shanghai cinemas have put back the release of "Hoh Xil" from October 1 to October 22 due to the sweeping popularity of "2046" among some audiences.

However, in recent days, thanks to word of mouth, more and more moviegoers have flocked to watch this somewhat ignored film. And more and more people have come to pour their praise on the film.

Huang Lei, an established actor and lecturer at Beijing Film Academy, said: "I can sense from 'Hoh Xil' the honesty of the director and the actors and actresses. I can feel the inner strength of the film, its ode to the good and beauty, its portrayal of characters, even though it is by no means flawless.


Promotion poster of "Hoh Xil: Mountain Patrol"

"A stellar cast, winner of international film awards, champion of box office revenues... these are some of the must-have labels for what is considered a good movie by many. But 'Hoh Xil' shows that is not necessary so," Huang said.

China Central Television anchor woman Zhang Yue said: "I did not expect to watch a better film when I sat in a movie theatre for 'Hoh Xil.' But it did win my heart, really. The film is realistic, and sometimes shocking."

Lu Chuan's father, Lu Tianming, who himself is an accomplished author for films and TV drama series, reportedly praised him for the new film: "My son, I believe nobody in the Chinese film circle will question your gift as a film artist any more."

Due to increasing public acclaim and box office success, some cinemas are beginning to add extra screening times for "Hoh Xil," publicized as "China's first Western-style adventure film."

In a realistic approach, the feature film, with investment of about 10 million yuan (US$1.2 million) from Columbia Pictures and Canon, depicts the life-and-death struggle between poachers and the volunteers, who organize themselves into a patrol team trying to protect the wild animals, especially the Tibetan antelope.

From the perspective of a young journalist from Beijing, the film unfolds with a routine patrol of the volunteers in Hoh Xil, which turns out to be their last one.

The film features spectacular landscapes ranging from snow-covered mountains, glaciers, lakes, volcanic lava flows and hot springs.

Hoh Xil (or Kekexili), which lies in the border areas of Southwest China's Tibet Autonomous Region, Northwest China's Qinghai Province and the Xinjiang Uygur Autonomous Region, was founded in 1995 as a national nature reserve, covering 45,000 square kilometres at an average elevation of 4,600 metres.

Hoh Xil means "beautiful girl" in the Mongolian language. It is one of the major headwater sources of the Yangtze River and encompasses an area of 83,000 square kilometres between the Tanggula and Kunlun mountains in the northwestern part of the Qinghai-Tibet Plateau. It is China's largest and the world's third largest uninhabited area.

Despite its hostile climate, the previously undisturbed area has long been a paradise for wildlife and home to more than 230 species of wild animals, 20 of which are under State protection, including the wild yak, Tibetan antelope, wild donkey, white-lip deer and brown bear.

However, the place has been disturbed in recent years by human beings - especially by poachers of wild animals.

"I was shocked by news reports about the volunteer Tibetan Mountain Patrol Team in a Guangzhou newspaper in the late 1990s," recalled the 34-year-old director.

In the 1950s, the population of Tibetan antelope was estimated to be around 1 million. Today, they number just 100,000.

Environment experts say if illegal hunting persists, the Tibetan antelope could become totally extinct.

The team patrolled Hoh Xil for three years without any support from the local government.

During that time two patrol captains died. They had to raise money themselves to buy guns, bullets, and cars to fight poachers equipped with machine guns.

The harsh living conditions made life a real struggle.

Moved and motivated, Lu clipped the story and started working to make it into a movie.

The shooting of the film finally kicked off last August in Qinghai.

Lu said: "To show the struggle of the average Chinese for a better future in that corner of China is what I want to accomplish in making this true-to-life film."

Lu interviewed 10 volunteers and collected relevant documentaries and articles.

He travelled to Hoh Xil to improve the film screenplay.

When being there, "every day I felt great anxiety and despair. I often thought it was 'mission impossible'," he recalled.

Dangerous to shoot

During the shooting of the film on the Qinghai-Tibet Plateau, many of the production crew, including Lu Chuan himself, fell ill. Some even quitted the production team.

Alex Graf, production manager from Columbia Pictures, was killed on location in a automobile accident at age 32.

"But we finally made it. And I think our efforts are rewarded by the audiences," said Lu.

"I could only finish one third of our schedule each day because people were too tired and uncomfortable on the high plateau. I had to reduce the number of scenes and try to tell the story with a minimum plot. Unexpectedly, it had the effect of making the film more concise and fast-paced.

"You must be there to understand how bad the situation is," Lu says.

Lu claimed that "'Hoh Xil' is by no means a simple film about the protection of wild life. In the film, one will get a sense of how life is fragile and elusive in harsh wilderness. The meaning of life for each individual is constantly questioned under such circumstances."

When it comes to the question of environmental protection, Lu says: "I believe that the development of local economy and the guarantee of the life of local people should first of all be taken care of. After that, we can then talk about protection of the Tibetan antelopes."

The original ending of "Hoh Xil" was just like a gun battle from a Hollywood western.

In the original script the captain is victorious, but when in Hoh Xil, he "found it wasn't accurate."

"The leader dies abruptly during the fighting, shot dead by poachers just like a helpless Tibet antelope. In Hoh Xil, the people can't be victorious. I want to tell the truth to the audience. I want to show how brutal and bloody the truth really is, to show the audience what really happened there," he said.

Meanwhile, Lu portrays the poachers as common human beings with greedy desires and troubled by their own problems. "During my investigation, I have found that, many of the poachers are former local farmers who lost their lands to desertification and water shortage."

Lu admits that although the film is not a documentary, many scenes of the film are actually based on real life people and their stories.

Emotions

Many moviegoers said that they could not help but crying watching the film. But the director explained that he tried not to make a cheap weepy. Instead, "I tried to stay cool-headed and be objective , telling the cruel story from a distance.

The original film was two hours and 40 minutes long. But he deliberately cut many episodes where there are heart-breaking scenes, in order to give the film a more reserved tone, Lu said.

Lu was born and grew up in Xinjiang. "I like West China very much. In part, that love drove me to shoot this adventure film," he said.

The young director said he had a passion for film from early age.

He still remembers vividly his first movie experience watching Zhang Yimou's "Red Sorghum" at about 15.

"It changed my opinion of film-making - I began to dream of becoming a film-maker," he recalled.

In 1993, Lu graduated as an English major from the People's Liberation Army International Relations University in Nanjing of East China's Jiangsu Province. He got his master's degree from the Directing Department of Beijing Film Academy in 1998 after joining the Production Centre of China Film Group Corporation.

In 2001, he set up Lu Chuan Film Workshop in collaboration with Beijing Huayi Taihe Brothers Film Company in the capital.

Lu rose to fame in Chinese film scene two years ago with "The Missing Gun" (Xun Qiang), starring Jiang Wen, one of China's top actors, which enjoyed both handsome office income and rave criticism.

The director was relieved that he has made much headway in the art of film-making.

"In my first feature film 'The Missing Gun' as a director, I paid too much attention to gimmicks in film techniques but forgot to temper the inner quality of the film. In 'Hoh Xil' I have tried to make the film more solid in both form and content," he said.

Among the performers is Qi Liang playing the reporter Ga Yu from Beijing People's Art Theatre and Tibetan actor Tobgyal (Duo-bujie), playing Ritai, head of the mountain patrol. He is a professional who graduated from Shanghai Drama Academy. But the rest of the Tibetan actors and actresses are all amateurs, who "risked their lives helping me do this movie," said Lu.

His film has been invited for screening at the on-going 17th Tokyo International Film Festival.

However, the film from a young director with only two films under his belt, is inevitably flawed.

First of all, the use of an "embedded" journalist from Beijing somewhat makes the film less convincing and inconsistent.

Also, the lack of experience both in life and in the film-making makes it hard for the young director to transmit his thoughts and leaves it up to the audience, particularly in exploring the inner world of the patrol volunteers and the poachers.

The film concludes rather abruptly when a patrol member is swallowed by the quicksand. The death does not answer the beginning of the film in the potent measure expected by the audience.




| | |
| --- | --- |
| | |
| Pregnant Julia Roberts in L.A. Hospital | |

| | |
| --- | --- |
| | |
| Nothing super about Naomi Campbell | |

| | |
| --- | --- |
| | |
| Maggie Cheung bids goodbye to the screen | |
Today's Top News
Top Life News

Making of anti-trust law is speeded up




One-China policy key to talks with Taipei




Arafat collapses as his health worsens




Reuters: Bush leads Kerry by one point




Police: "Pessimistic" man set off bus blast




IOC warns against Olympic venue delays