Multinationals' fund flow gets easier
By Zhang Dingmin (China Daily)
Updated: 2004-10-27 01:14
China's foreign exchange authorities announced a long-expected loosening measure Wednesday, allowing multinational companies to transfer forex funds among its subsidiaries.
The new regulation, promulgated by the State Administration of Foreign Exchange (SAFE), allows subsidiaries of Chinese and foreign multinationals to borrow forex funds from their peers, both within China and across the border, but stops short of permitting their overseas subsidiaries to lend to member companies operating in China.
The regulation takes effect next Monday.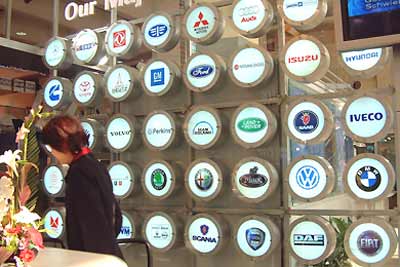 An employee stands in front of a display board with logos of multinationals at a recent trade fair. China's foreign exchange authorities announced a long-expected loosening measure yesterday, allowing multinational companies to transfer forex funds among its subsidiaries.[newsphoto]

The move "will provide a variety of solutions for multinational companies to improve efficiency in the use of foreign exchange and reduce financing costs, will help improve China's foreign investment environment and propel Chinese-funded multinational companies to implement their 'Go-out' strategy," the commission said in a statement.

China still maintains strict forex controls. Its currency, or renminbi, is only partly convertible under the capital account.

Companies, even those owned by the same parent group, were previously not allowed to borrow forex funds from one another.

Yet many foreign-invested companies operating in China have accumulated sizable profits and excess funds from the local market, and have been calling for integrated use of their forex funds, SAFE said.

Many Chinese multinational firms are experiencing funding shortages in overseas markets, which hampers their efforts to grow internationally, the commission said.

"They were very anxious. Previously, when one member company finds a very good project but does not have the money, it simply could not borrow from its peer companies," said a SAFE official who declined to be named.

"When we conducted research one year ago, they had very strong requests and everybody wanted to be the pilot," she added.

Motorola and HP were among the pilot foreign companies selected by SAFE before the formal regulation was formulated.

Although SAFE said the move aims primarily to facilitate operations of multinational companies, some analysts say it has some macroeconomic significance in broadening the narrow use of China's growing forex funds, which has been complicating the nation's monetary policy operations and put upward pressure on the renminbi exchange rate.

"This adds more channels for the use of domestic forex funds," said Wang Yuanhong, a senior analyst with the State Information Centre.

"It will help secure an appropriate growth rate for forex deposits and reduce interest payments (of Chinese banks), provide convenience for multinationals and help alleviate the pressure on money supply," he added, noting that no borrowing from abroad is allowed under the new regulation.

The unabated expectations for a revaluation of the renminbi, which some of China's trading partners complain is undervalued, and the interest rate differentials between domestic and overseas markets, have been driving capital inflows in recent years.

The growing dollar inflow has complicated China's monetary policy operations, as the central bank has to purchase excess dollars to enforce a narrow range of the renminbi exchange rate, subsequently increasing local money supply at a time of rapid monetary growth.

SAFE said multinationals in the regulation refer to group companies that own subsidiaries both in and outside China, and has a China-based member company responsible for managing the group's investments globally or for a region that includes China.

Financial institutions are excluded, it said.

The regulation also stipulates ceilings on overseas lending -- 20 per cent of shareholders' equity for members of Chinese multinationals and the sum of unexpatriated allocated profits and unallocated profits of foreign investors in the proceeding year for members of foreign multinationals.