Wu Yi hails society's record of humanitarian activities
By Cao Desheng (China Daily)
Updated: 2004-10-27 22:28
Li Meiying still remembers the makeshift toilet she used two years ago -- two bricks, a pit, flies and mosquitoes in the air and a horrible smell.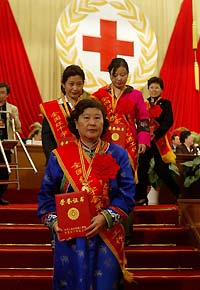 Red Cross workers receive certificates of honour at the Eighth Convention of the Members of Red Cross Society of China held in Beijing Wednesday. [newsphoto]

But a programme implemented by the Red Cross Society of China in collaboration with European Union has changed all that.

Thanks to the programme, the middle-aged woman from the village of Tiantang in Yining County of South China's Guangxi Zhuang Autonomous Region became one of the first beneficiaries of a kind of ecological toilet.

Before the end of the year, 4,000 such toilets will be built in the autonomous region, according to Bai Xianjing, vice-director of the Red Cross Society of China's Guangxi Branch.

The Red Cross Society of China, which celebrated its centenary earlier this year, has conducted many humanitarian activities in its mission to protect people's lives and their health.

The organization raised more than 120 million yuan (US$ 14.5 million) last year to help the nation's needy.

And it now has more than 70,000 grass-roots branches, involving more than 20 million members and over 400,000 volunteers.

Han Xiao, a student at Dalian Maritime University in Northeast China's Liaoning Province, feels proud when speaking of his experience in AIDS prevention training organized by the province's Red Cross Society branch over the past months.

"Before the training, I knew little about AIDS. But now I can tell everybody around me about the prevention of this deadly disease," he said.

In recent years, the organization have carried out programmes to treat AIDS patients and prevent the deadly disease. It has also provided relief to the victims of natural disasters, worked to wipe out poverty and offered medical training.

The Red Cross Society of China has played a significant part in the humanitarian activities such as disaster relief, promotion of voluntary blood donations and organ donations, Vice-Premier Wu Yi said Wednesday.

Wu made the remarks at the Eighth Convention of the Red Cross Society of China, held every five years.

She called on the nation's Red Cross activists to continue to promote development and world peace.

According to the organization's five-year plan, it will continue to expand its membership from the current 20 million to 30 million before 2009 and involve more students in its humanitarian activities.




Today's Top News
Top China News

6,953 officials probed for power flop




FM: talks with Japan on sea border advance




Two Chinese citizens killed in Senegal




Statistics show rise in industrial profits




Dissecting China's 'middle class'




China issues SARS warning as winter nears