Iran to respond to EU nuclear offer
(Agencies)
Updated: 2004-10-27 20:25
Iran returned to talks with Europe's three heavyweight countries aimed at resolving a long-running dispute over its nuclear program, although diplomats were sceptical of a breakthrough.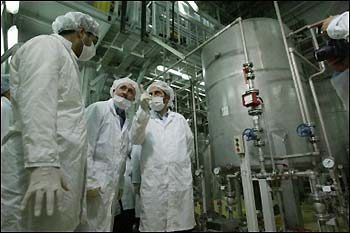 Members of an Iranian parliamentary delegation during their visit to a uranium conversion facility near the central Iranian city of Isfahan. Iran returned to talks with Europe's three heavyweight countries aimed at resolving a long-running dispute over its nuclear program, although diplomats were sceptical of a breakthrough. [AFP]

The meeting started behind closed doors at the French embassy in Vienna, a French diplomat said shortly after midday (1000 GMT).

Iran was to respond to an offer by Britain, France and Germany which would enable it to avoid potential UN sanctions, and receive nuclear technology, by indefinitely suspending uranium enrichment.

The offer was made at talks in the Austrian capital last Thursday.

However diplomats said earlier Wednesday that they saw little prospect of a breakthrough.

In Tehran, a senior official said late Tuesday that Iran could take months to agree to the EU request because the offer was riddled with ambiguities and must be more balanced.

"There are many ambiguities in the European proposal ... We are waiting for an answer from the Europeans on our questions before we can decide (to accept it)," a key nuclear spokesman Hossein Moussavian said.

The Berlin meeting gathered senior foreign ministry directors from Britain, France and Germany with a delegation under Amir Hossein Zamani-Nia, the Iranian foreign ministry's international political affairs director.

Iran had Monday said it was ready to consider the request, in what could be a major breakthrough towards ending a standoff over its nuclear programme, which the United States claims hides secret weapons development.

But Moussavian said: "The assurances, commitments and confidence-building measures must be reciprocal. The nature of the cooperation must be defined and there must be a guarantee for implementing the outcome of the talks."

"The period of negotiations cannot be limitless. We need some months for talks to see if we can arrive at an agreement or not," Moussavian said.

Analysts and diplomats expressed skepticism about Iran's tactics.

They said Iran was seeking to delay the matter until after US presidential elections November 2, and then give just enough ground to avoid having the International Atomic Energy Agency send the Iranian nuclear dossier to the UN Security Council, which could impose punishing sanctions on Iran.

"If Iran gives an answer Wednesday, it will certainly only be a negotiating position," said a senior Western diplomat, who asked not to be named.

"It seems like the Iranians are not coming to Vienna with enough authority to reach a decision and will have to take the matter back to Tehran," another diplomat said.

"In any case, the Iranian idea of suspending for short periods has already failed to resolve the issue several times in the past. They have to do something more," he said.

Under the European offer, Iran would receive valuable nuclear technology, including a light-water research reactor which would produce less fissionable material than the heavy-water reactor Tehran wants to build.

The deal also includes a recognition of Tehran's right to peaceful nuclear technology, measures to increase trade and backing of some of Iran's regional security concerns.

David Albright, a former IAEA inspector and president of the Institute for Science and International Security in Washington, said earlier this week that if Iran turned down the offer, "reasonable people would have to conclude the country wants nuclear weapons."

The Iranian resistance was due Wednesday to hold a demonstration in Vienna to protest the EU proposal, which includes a promise to maintain the People's Mujahedin organization, the main Iranian resistance movement, on an EU list of EU terrorist organizations.