British military begins deployment in Iraq
(Agencies)
Updated: 2004-10-27 16:24
Some 800 British forces, accompanied by U.S. Marines, began making their way toward Baghdad on Wednesday as part of a redeployment ahead of an expected coalition offensive against insurgent strongholds.
The deployment came hours after Iraq's most feared militant group released a video threatening to behead a Japanese captive within 48 hours unless Japan withdraws its troops from Iraq.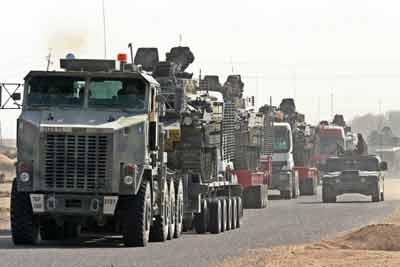 British troops of the 1st Battalion The Black Watch move in a convoy to begin their redeployment to areas near Baghdad October 27, 2004. "The deployment has begun," a spokesman for the Ministry of Defence told Reuters in London. "For operational reasons I can give no further details. But they will be back for Christmas." Squadron Leader Steve Dharamraj told Reuters by telephone from Basra that the movement north involved the Black Watch regiment. [Reuters]

British Lt. Col. James Cowan said British troops left the southern city of Basra to head for a base in Hillah, about 60 miles south of Baghdad. Forty U.S. Marines were with them, he said.

"British forces have just started moving this morning into the north of Hillah. They will deploy in that area and will receive their jobs in maintaining security there," he said.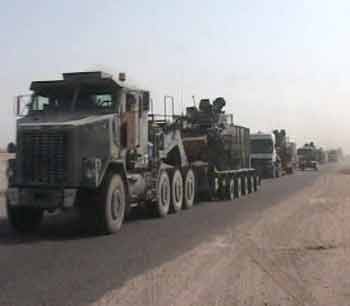 A video grab of British troops moving north from Iraq's southern city of Basra to deploy near Baghdad October 27, 2004. About 850 British troops are expected to deploy just south of Baghdad to free up U.S. forces fighting insurgents in the rebel-held city of Falluja and elsewhere. [Reuters]

Associated Press Television News footage showed large flatbed trucks carrying armored British vehicles up a road through Iraq's southern desert.

Nearly 800 Scottish soldiers of the First Battalion, Black Watch are to replace U.S. forces who are expected to take part in offensives against insurgent strongholds west and north of the capital in an attempt to bring order to Iraq before elections in January.

The video was posted on a militant Web site Tuesday, saying the man was kidnapped by Jordanian-born militant Abu Musab al-Zarqawi's group and vowing to kill him within 48 hours unless the demands were met.

Japanese Prime Minister Junichiro Koizumi rejected the demands.

"The Self-Defense Forces will not withdraw," Koizumi told reporters in western Japan. "I cannot allow terrorism and cannot bow to terrorism."

The captive, who had long hair and wore a white T-shirt, was identified only as someone connected to the Japanese armed forces. He spoke briefly in halting English and Japanese, addressing himself to Koizumi.

"They asked me why Japanese government broke the law and sent troops to Iraq," the man said in English. "They want Japanese government and Koizumi prime minister, they want to withdraw the Japanese troops from Iraq or cut my head."

He then paused, sighed and switched into Japanese.

"Mr. Koizumi. They seek the withdrawal of Japanese Self-Defense Forces... (and say they) will take my head off," the captive said. "I'm sorry. I want to return to Japan again."

The video's authenticity could not be independently confirmed, but the Japanese government later identified the captive as 24-year-old Shosei Koda.

Tokyo has dispatched some 500 troops to the southern Iraqi city of Samawah on a humanitarian mission to purify water and rebuild schools in support of U.S.-led reconstruction efforts.

Foreign Minister Nobutaka Machimura urged the hostage-takers to immediately release Koda, saying that he had nothing to do with Japan's deployment in Iraq.

"Mr. Koda is a private individual who is not related to the Self-Defense Forces or the government of Japan," Machimura said.

When the captive finished speaking, the video showed him kneeling before three masked militants. One of them read a statement calling the man "an element attached to the Japanese armed forces."

"We give the Japanese government 48 hours to withdraw its troops from Iraq, otherwise his fate will be the same as that of his predecessors, Berg and Bigley and other infidels," the man said, referring to the beheadings of British engineer Kenneth Bigley and U.S. businessman Nicholas Berg.

The man's head was bowed to the floor as the militant spoke, and another of the militants grabbed him by the hair to face the camera.

The militant said the Japanese man had entered Iraq through Israel and Jordan. "The documents that prove this will be displayed when his family and the Japanese government identify him," he said.

The video, which lasted just under three minutes, bore the logo of al-Qaida in Iraq, the new name for al-Zarqawi's group, which was previously known as Tawhid and Jihad and has allied itself with Osama bin Laden. The group has claimed responsibility for the beheadings of Bigley, two American co-workers and Berg, as well as numerous car bombings and other attacks.

The United States has offered a $25 million bounty for the capture or killing of al-Zarqawi, who is believed to be hiding in the militant stronghold of Fallujah.

The American military wants the British to assume security responsibility in areas close to Baghdad, so U.S. Marines and soldiers can be shifted to insurgency strongholds west of the capital, including Fallujah.

Prime Minister Tony Blair's decision to agree to the U.S. request for redeployment is a politically sensitive one for the British leader, whose popularity has plummeted because of his support for the Iraq war.

Britain's 8,500 troops are based around the southern port city of Basra in a relatively peaceful area of Iraq. Sixty-eight British soldiers have been killed in Iraq, compared with more than 1,000 U.S. troops.

The political pressure mounted with last week's kidnapping of British aid worker Margaret Hassan, who heads CARE International's operations in Iraq. Hassan, 59, who also holds Iraqi and Irish citizenship, was kidnapped on her way to work in Baghdad. No group has claimed responsibility.

Interim Iraqi Prime Minister Ayad Allawi said Tuesday that more extremists are massing in Fallujah and warned of increasing terrorist attacks to come. On Saturday, insurgents ambushed and executed about 50 unarmed Iraqi soldiers as they were heading home from a U.S. military training camp northeast of Baghdad.




Today's Top News
Top World News

6,953 officials probed for power flop




FM: talks with Japan on sea border advance




Statistics show rise in industrial profits




Dissecting China's 'middle class'




China issues SARS warning as winter nears




AP: New Bush guard papers leave questions