New quake rattles northern Japan, felt in Tokyo
(Agencies)
Updated: 2004-10-27 14:27
A powerful earthquake jolted northern Japan on Wednesday in the same region where the country's deadliest quake in a decade killed at least 31 people and injured more than 3,400 five days ago.
At least one building collapsed in Ojiya, one of the towns hardest hit by Saturday's big tremor, and smoke could be seen in the city of Nagaoka after the latest quake to hit the mostly rural Niigata region, 150 miles north of Tokyo.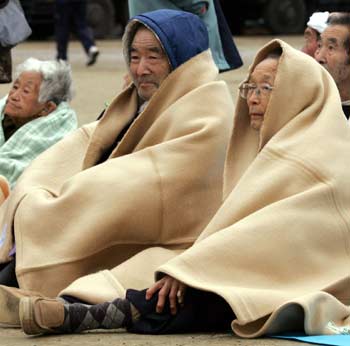 Earthquake victims take refuge outside an evacuation centre following a strong earthquake in Nagaoka, northern Japan October 27, 2004. A strong earthquake with a preliminary magnitude of 6.0 jolted northern Japan on Wednesday, national broadcaster NHK said. The quake was also felt in Tokyo. [Reuters]

The latest tremor, which had a magnitude of 6.1, hit at 10.40 a.m. (2140 EDT) and was also felt strongly in Tokyo, but there were no reports of damage in the capital.

Saturday's earthquake, with a magnitude of 6.8, was Japan's deadliest since a 7.2 magnitude quake killed more than 6,400 people in the western city of Kobe in 1995.

More than 100,000 survivors of Saturday's quake, many of them elderly, are still in makeshift shelters, facing another day of stress and fatigue, raising fears that the death toll could rise.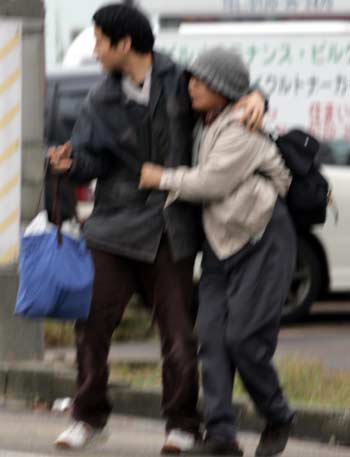 Residents are shaken by strong earthquake in Nagaoka, northern Japan October 27, 2004. [Reuters]

A man in Ojiya collapsed, apparently after suffering a stroke, and was taken to hospital by helicopter, national broadcaster NHK said. Four others were injured, media said.

About 1,000 people had been evacuated from the main train station in Nagaoka, which has a population of about 200,000.

"I thought the roof might come down on us," an elderly woman in Nagaoka said on television.

Many of the injured in Saturday's quake and subsequent series of big aftershocks were elderly people who had suffered heart attacks, strokes or shock, and authorities were concerned that cold weather and fatigue could claim more lives.

The focus of Wednesday's tremor was 10 km (6 miles) below the surface of the earth, the Japan Meteorological Agency said, adding that there could be more large aftershocks.

"There weren't too many quakes yesterday but today's was big. I was scared. I hope this settles down. We can't go home," 58-year-old Yoko Sakamaki told Reuters at high school gymnasium where she had been evacuated.

TV coverage showed high-rise building in Nagaoka swaying.

Women, many clutching small children, ran for the door of an evacuation center in the town of Tokamachi, TV showed.

People including elderly and children at another evacuation center flattened themselves on the floor as the latest tremor struck, many calling out: "I'm scared, I'm scared."

More to come?

All train service in the Niigata area was temporarily halted and Niigata airport suspended operations and mobile phones were affected, national broadcaster NHK said.

Tokyo Electric Power Co said that all of its nuclear reactors in Niigata were operating normally. But some areas lost power again and mobile phone service was disrupted, media said.

John Bellini, a geophysicist at the U.S. Geological Survey National Earthquake Information Center in Golden, Colorado, said the initial quake had been followed by more large aftershocks than was usually the case.

"These could go on for days or weeks," he said.

The new earthquake measured a "lower 6" on the Japanese scale of 7, which reads ground motion. Typically quakes of that intensity make it difficult to keep standing and gas pipes and water mains are likely to be damaged.

Shares reversed course and slipped into negative territory after the quake shook Tokyo, one of the world's major financial centers, but prices recovered a bit in afternoon trading and the Nikkei average was up 0.17 percent at 0050 EDT.

The yen also got small jolt.

"Investors just shied away after the quake, feeling uneasy," said Masaharu Sakudo, adviser at Tachibana Securities.

The earthquake and aftershocks have raised concerns about the economic impact of a recent natural disasters in Japan. Saturday's quake followed a record 10 typhoons to hit Japan this year, including one that killed at least 84 people last week.

The government has said it may have to compile an extra budget to cover the costs of recent natural disasters.

The magnitude of the earthquakes was measured according to a technique similar to the Richter scale, but adjusted for Japan's geological characteristics. The U.S. Geological Survey rated the latest quake at magnitude 5.7 on its scale.

Earthquakes are common in Japan, one of the world's most seismically active areas. The country accounts for about 20 percent of the world's earthquakes of magnitude 6 or greater.




Today's Top News
Top World News

Militants threaten to behead Japanese hostage




Statistics show rise in industrial profits




6,953 officials probed for power flop




Dissecting China's 'middle class'




FM: talks with Japan on sea border advance




AP: New Bush guard papers leave questions