Taiwan lawmakers in food fight over arms budget
(Agencies)
Updated: 2004-10-27 09:40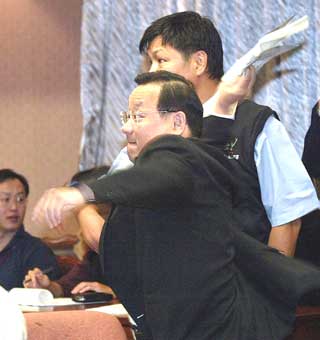 Taiwan lawmaker Chen Tsung-yi (L) from the ruling Democratic Progressive Party throws a book at opposition legislators after a food fight erupted in parliament on October 26, 2004. The lawmakers hurled their lunch boxes at each other in a quarrel over whether to include an $18 billion U.S. arms budget on the legislative agenda for Friday. [Reuters]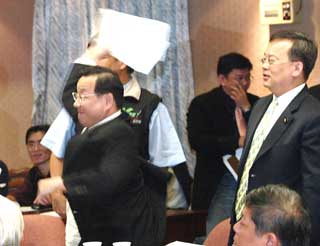 Taiwan lawmaker Chen Tsung-yi (L) from the ruling Democratic Progressive Party throws a book at opposition legislators after a food fight erupted in parliament on October 26, 2004. [Reuters]

A food fight erupted in Taiwan's "parliament" on Tuesday as lawmakers quarrelling over a massive arms budget hurled their lunch boxes at each other.

"You've got no shame!" screamed Chu Fong-chih of the opposition Nationalist Party, after throwing a take-out box of chicken and rice at Chen Tsung-yi, a legislator from the ruling Democratic Progressive Party who backed the special budget.

Chen responded by accusing Chu of sympathizing with Beijing, and flung his own lunch box at her.

Taiwan's "parliament" is notorious for fistfights, with many lawmakers enjoying the media attention when scuffles break out. Chairs and shoes have also been known to fly across the chamber on occasion.

Legislators were meeting on Tuesday to decide if a proposed $18 billion budget to buy weapons from the United States should be put on the legislative agenda for Friday.




Today's Top News
Top China News

Militants threaten to behead Japanese hostage




Statistics show rise in industrial profits




6,953 officials probed for power flop




Dissecting China's 'middle class'




FM: talks with Japan on sea border advance




AP: New Bush guard papers leave questions