'Love child' of Na Ying's boy to be put to the test
(Shenzhen Daily)
Updated: 2004-10-27 08:58
The uncertainty surrounding former footballer Gao Feng's alleged illegitimate son is to be solved soon, after Gao agreed to have a DNA test Tuesday, according to Gao's lawyer.

The star couple never lack romance while their love trip proves to be bumpy. [baidu]

The DNA test has been arranged for Wednesday. Wang Nawen, the woman who claimed to have given birth to Gao's child, will take the child for a DNA test in a Beijing hospital the same day.

Wang has asked Gao, the open boyfriend of pop diva Na Ying, to make financial contributions to help raise the child, but Gao has refused unless Wang can produce evidence such as a DNA test showing his blood ties with the child.

However, Wang did not carry out the DNA test for the child because of financial difficulties. The cost of the test, 3,600 yuan (US$439), will be paid by Gao.

Gao's lawyer Zhao Shuyan said it was not clear when the test result would be released. However, doctors said it could be in about a week.

Gao has announced he would not shun his paternal duties if the child was proved to be his.

The rumoured third party, A Wen [baidu]

Wang had asked for 670,000 yuan to support the child, but Gao did not say how much he would pay if the child was proved to be his.

Wang, who lives in Shenyang City in northeastern China, said she would not tell the child about the DNA test. Instead, she would tell the child it was just a standard health check.

Though the child and Gao would have the DNA test at the same hospital designated by a Beijing court on the same day, she would not let Gao see the child, said Wang.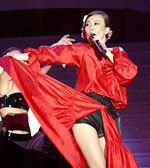 Na Ying performs a song on the stage. [baidu]

Wang is very confident about the test result, "unless somebody cheats me in the test process," she said.

According to Wang, she first met Gao in February 2000 and last met him in December 2001. Her child was born March 29, 2001.

Although he has not openly declared having an affair with Wang, the former soccer star has acknowledged having an affair with a woman other than his current girlfriend Na Ying.

Na Ying, who recently gave birth to a child with Gao, had forgiven him, he said.






| | |
| --- | --- |
| | |
| Nothing super about Naomi Campbell | |

| | |
| --- | --- |
| | |
| Maggie Cheung bids goodbye to the screen | |

| | |
| --- | --- |
| | |
| 'Love child' of Na Ying's boy to be put to the test | |
Today's Top News
Top Life News

Making of anti-trust law is speeded up




One-China policy key to talks with Taipei




Housing price up 9.9% in major cities




Powell remarks consistent with policy




Arafat collapses as his health worsens




Revised electoral law enhances democracy