Militants threaten to behead Japanese hostage
(Agencies)
Updated: 2004-10-27 07:57
Video posted Tuesday on a militant Islamic Web site showed what it claimed was a Japanese captive kidnapped by Abu Musab al-Zarqawi's group and threatened to behead him within 48 hours unless Japan pulls its troops from Iraq. Japanese Prime Minister Junichiro Koizumi rejected the demand.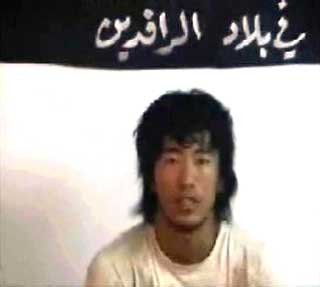 An unidentified Japanese hostage is seen in a still image from internet video footage shown October 26, 2004. A group led by al Qaeda ally Abu Musab al-Zarqawi threatened to behead the hostage it said worked with Japanese forces in Iraq if Tokyo did not withdraw its forces from the country within 48 hours. [Reuters]

"I won't withdraw troops," he was quoted as saying by Japan's Kyodo news agency after receiving news of the hostage threat.

He also ordered Hiroyuki Hosoda his chief cabinet secretary, to confirm the facts of the case and to consider measures to free the hostage if the kidnapping is confirmed, according to Kyodo.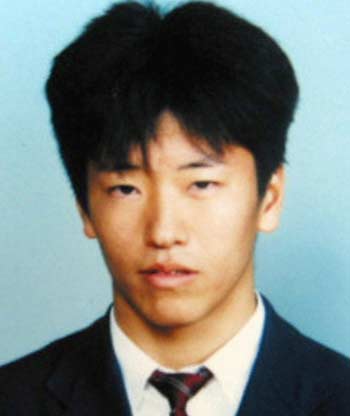 An undated high school photograph of Shosei Koda, 24, who has been identified as having been taken hostage in Iraq by a group led by al Qaeda ally Abu Musab al-Zarqawi, who has threatened to behead him unless Japan withdraws its troops. [Reuters]

The man, who had long hair and wore a white T-shirt, was identified only as someone connected to the Japanese armed forces. He spoke briefly in halting English and Japanese, addressing himself to Koizumi.

"They asked me why Japanese government broke the law and sent troops to Iraq," the man said in English. "They want Japanese government and Koizumi prime minister, they want to withdraw the Japanese troops from Iraq or cut my head."

He then paused, sighed and switched into Japanese.

"Mr. Koizumi. They seek the withdrawal of Japanese Self-Defense Forces," he said, adding that a militant whose name was inaudible "says he will take my head off."

"I'm sorry. I want to return to Japan again," the captive said.

An unidentified Japanese hostage is seen seated in front of three masked militants as they read a statement at an unknown location in this frame grab taken from Internet video footage shown October 26, 2004. A group led by al Qaeda ally Abu Musab al-Zarqawi threatened to behead a Japanese hostage it said worked with Japanese forces in Iraq if Tokyo did not withdraw its forces from the country within 48 hours. [Reuters]

The video's authenticity could not be independently confirmed.

Kyodo News agency reported that all five staffers at Japan's government office in Iraq were safe, and that the Defense Agency reported there was nothing unusual at its base in southern Iraq.

The claim of a kidnapping was the second Iraqi kidnapping crisis to hit Japan. Five Japanese civilians, aid workers and a freelance journalist, were kidnapped briefly in the spring, throwing the pro-American government into crisis. Koizumi, however, refused to meet the hostage-takers' demands that Japan withdraw its troops from Iraq, and the hostages were released unharmed.

The new kidnapping was certain to trigger an uproar in Japan and pose a new test to the government, which has dispatched 500 troops to southern Iraq on a humanitarian mission in support of U.S.-led reconstruction efforts despite strong opposition in public opinion.

Polls show about half of the Japanese oppose the dispatch because of fears it could draw the troops into the fighting there and prompt insurgents and terrorists to target Japanese citizens at home and abroad. Many also argue the dispatch violates the country's pacifist postwar constitution, which limits Japanese troops to self-defense of Japan.

When the captive finished speaking, the video showed him kneeling before three masked militants. One of them read a statement calling the man "an element attached to the Japanese armed forces."

"We give the Japanese government 48 hours to withdraw its troops from Iraq, otherwise his fate will be the same of that his predecessors, Berg and Bigley and other infidels," the man said, referring to the beheadings of British engineer Kenneth Bigley and U.S. businessman Nicholas Berg.

The man's head was bowed to the floor as the militant spoke, and another of the militants grabbed him by the hair to face the camera.

The militant said the Japanese man had entered Iraq through Israel and Jordan. "The documents that prove this will be displayed when his family and the Japanese government identify him," he said.

The video, which lasted just under three minutes, bore the logo of al-Qaida in Iraq, the new name for al-Zarqawi's group, which was previously known as Tawhid and Jihad. The group has claimed responsibility for the beheadings of Bigley, two American co-workers and Berg, as well as numerous car bombings and other attacks.

Insurgents in Iraq have kidnapped more than 150 foreigners. Most were kidnapped for ransom and freed unharmed, but at least 30 have been killed as part of a campaign to drive out foreign troops and companies.

The new crisis comes at a sensitive time politically for Koizumi. He won a boost in popularity for standing down the hostage-takers last time, but he was weakened in July Parliamentary elections in which the main opposition party made strong gains in the upper house.

Japan's troops are also facing more hostility in the southern Iraqi city of Samawah, which was chosen for its relative safety. An unexploded mortar was discovered inside the Japanese base there on Saturday, the first time a projectile has been fired into the camp. The mortar, however, was unarmed and there were no injuries.





Today's Top News
Top World News

6,953 officials probed for power flop




FM: talks with Japan on sea border advance




Statistics show rise in industrial profits




Dissecting China's 'middle class'




China issues SARS warning as winter nears




AP: New Bush guard papers leave questions