FM: talks with Japan on sea border advance
By Qin Yan (China Daily)
Updated: 2004-10-26 22:51
Talks between China and Japan over sea demarcation in the East China Sea on Monday were constructive, said China's Foreign Ministry.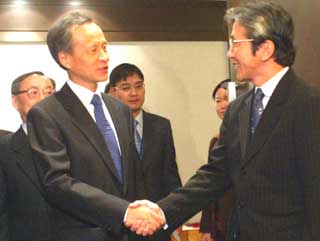 Cui Tiankai (L), director general of Asian affairs of the Chinese Ministry of Foreign Affairs, shakes hands with Mitoji Yabunaka (R), director general of the Japanese Foreign Ministry's Asian and Oceanian Affairs Bureau, prior to their talks over demarcation disputes of the East China Sea in Beijing October 25, 2004. No deals were reached at Monday's talks, but the two states agreed to continue their talks. [newsphoto]
The talks in Beijing were meaningful and both sides showed sincerity and a constructive attitude, ministry spokeswoman Zhang Qiyue said Tuesday in Beijing.
"We hold that a fair solution to the issue should be sought through negotiations based on the United Nations (UN) Law of the Sea Convention," Zhang said.
Japan has unilaterally demarcated a controversial exclusive economic zone along the median line. It holds that the line is determined by the two countries' coastlines.
However, China holds the line is determined by the continental shelf on China's side, over which China claims exclusive rights.
Both China and Japan have a right to claim 200 sea miles of water according to international law. However, the width of the East China Sea is less than 400 sea miles and the claims of the two sides overlapped and raised disputes.
Zhang reiterated at Tuesday's news briefing that China's oil and gas exploration efforts in the East China Sea are being carried out in China's indisputable coastal waters and are a matter within the scope of China's sovereignty.
<subhead>Illegal intruders
<bodytxt>China will severely punish those responsible for recent break ins into diplomatic institutions and foreign schools in Beijing, Zhang said.
A number of people reportedly attempted to break into the embassy of the Republic of Korea (ROK) and an ROK school in Beijing recently.
Zhang said some of those intruders even resorted to violence during their attempt.
Such activities threaten the safety of both foreign and Chinese staff, are a serious breach of China's laws and harm the country's security and stability, she said.
They also greatly disturb normal operations in the diplomatic institutions and foreign schools.
She said the break-ins were organized by self-proclaimed foreign religious and human rights organizations.
The Chinese Government will severely punish such "snake heads," she said.
Meanwhile, the Chinese Government will treat the illegal intruders according to related international and domestic laws and with the principle of humanism.
Today's Top News
Top China News

Militants threaten to behead Japanese hostage




Statistics show rise in industrial profits




6,953 officials probed for power flop




Plan to rebuild Silk Road in making




FM: talks with Japan on sea border advance




Transparency sought to keep trial fairness