UN: 400 tons of Iraq explosives missing
(Agencies)
Updated: 2004-10-26 14:45
The U.N. nuclear agency warned Monday that insurgents in Iraq may have obtained nearly 400 tons of missing explosives that can be used in the kind of car bomb attacks that have targeted U.S.-led coalition forces for months.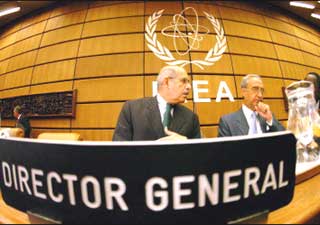 IAEA General director and nuclear watchdog Mohammed El Baradei (L) speaks to chairman of board of Governors Antonio Nunez Garcia-Sauco. Nearly 400 tonnes of powerful explosives that could be used in conventional or nuclear missiles disappeared from an unguarded military installation in Iraq, the International Atomic Energy Agency said. [AFP/file]

International Atomic Energy Agency chief Mohamed ElBaradei reported the disappearance to the U.N. Security Council on Monday, two weeks after he said Iraq told the nuclear agency that the explosives had vanished from the former Iraqi military installation as a result of "theft and looting ... due to lack of security."

The disappearance raised questions about why the United States didn't do more to secure the Al-Qaqaa facility 30 miles south of Baghdad and failed to allow full international inspections to resume after the March 2003 invasion.

The White House played down the significance of the missing weapons, but Democratic presidential hopeful John Kerry accused President Bush of "incredible incompetence" and his campaign said the administration "must answer for what may be the most grave and catastrophic mistake in a tragic series of blunders in Iraq."

Al-Qaqaa is near Youssifiyah, an area rife with ambush attacks. An Associated Press Television News crew that drove past the compound Monday saw no visible security at the gates of the site, a jumble of low-slung, yellow-colored storage buildings that appeared deserted.

"The most immediate concern here is that these explosives could have fallen into the wrong hands," IAEA spokeswoman Melissa Fleming said.

The agency first placed a seal over Al-Qaqaa storage bunkers holding the explosives in 1991 as part of U.N. sanctions that ordered the dismantlement of Iraq's nuclear program after the Gulf War.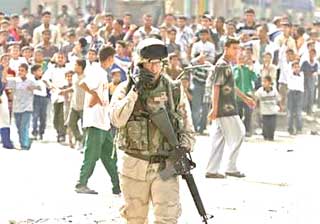 Iraqi boys shout anti-U.S. slogans behind an American soldier conducting a search operation in eastern Baghdad October 24, 2004. U.S. Army leaders on October 25 said the all-volunteer Army was up to the task of crushing the Iraqi insurgency and defeating terrorism even if it might take many years, possibly decades. [Reuters]

IAEA inspectors last saw the explosives in January 2003 when they took an inventory and placed fresh seals on the bunkers, Fleming said. Inspectors visited the site again in March 2003, but didn't view the explosives because the seals were not broken, she said.

Nuclear agency experts pulled out of Iraq just before the U.S.-led invasion later that month, and have not yet been able to return for general inspections despite ElBaradei's repeated urging that they be allowed to finish their work. Although IAEA inspectors have made two trips to Iraq since the war at U.S. requests, Russia and other Security Council members have pressed for their full-time return — so far unsuccessfully.

Pentagon spokesman Bryan Whitman said coalition forces were present in the vicinity of the site both during and after major combat operations, which ended May 1, 2003 — and searched the facility but found none of the explosives material in question. That raised the possibility that the explosives had disappeared before U.S. soldiers could secure the site in the immediate invasion aftermath.

The Pentagon would not say whether it had informed the nuclear agency at that point that the conventional explosives were not where they were supposed to be.

Saddam Hussein's regime used Al-Qaqaa as a key part of its effort to build a nuclear bomb. Although the missing materials are conventional explosives known as HMX and RDX, the Vienna-based IAEA became involved because HMX is a "dual use" substance powerful enough to ignite the fissile material in an atomic bomb and set off a nuclear chain reaction.

Both are key components in plastic explosives such as C-4 and Semtex, which are so powerful that Libyan terrorists needed just a pound to blow up Pan Am Flight 103 over Lockerbie, Scotland, in 1988, killing 170 people.

Insurgents targeting coalition forces in Iraq have made widespread use of plastic explosives in a bloody spate of car bomb attacks. Officials were unable to link the missing explosives directly to the recent car bombings, but the revelations that they could have fallen into enemy hands caused a stir in the last week of the U.S. presidential campaign.

"These explosives can be used to blow up airplanes, level buildings, attack our troops and detonate nuclear weapons," senior Kerry adviser Joe Lockhart said in a statement. "The Bush administration knew where this stockpile was, but took no action to secure the site."

White House press secretary Scott McClellan said the administration's first concern was whether the disappearance constituted a nuclear proliferation threat. He said it did not.

"We have destroyed more than 243,000 munitions" in Iraq, he said. "We've secured another nearly 163,000 that will be destroyed."

McClellan said the IAEA informed U.S. mission in Vienna on Oct. 15 about the missing explosives at Al-Qaqaa. He said national security adviser Condoleeza Rice was notified "days after that," and she then informed President Bush.

ElBaradei told the council the agency had been trying to give the U.S.-led multinational force and Iraq's interim government "an opportunity to attempt to recover the explosives before this matter was put into the public domain."

But since the disappearance was reported Monday in The New York Times, ElBaradei said he wanted the Security Council to have the letter dated Oct. 10 that he received from Mohammed J. Abbas, a senior official at Iraq's Ministry of Science and Technology, reporting the theft of 377 tons of explosives.

The letter from Abbas informed the IAEA that since April 9, 2003, looting at the Al-Qaqaa installation had resulted in the loss of 215 tons of HMX, 156 tons of RDX and six tons of PETN explosives.

Diplomats said there was nothing to suggest that ElBaradei, who had irritated the Bush administration before the war by insisting there was no evidence that Saddam had revived his nuclear program, had intended to keep the report a secret until after the Nov. 2 election.




Today's Top News
Top World News

Nation opposes US arms sales to Taiwan, Hu says




China trade to reach US$1.1 trillion in 2004




Nine provinces may face winter blackouts




Housing price up 13% in first three quarters




Kerry leads Bush in paper endorsements




Henan mine blast death toll rises to 122