Cuba moves to stop trade in US dollars
(Agencies)
Updated: 2004-10-26 10:47
Cuba announced Monday that U.S. dollars will no longer be accepted at businesses and stores on the island starting next month in a move that will radically change the way cash transactions have been done there over the past decade.
The resolution by Cuba's Central Bank seemed aimed at finding new sources for foreign reserves as the U.S. government steps up efforts to prevent dollars from reaching the island as part of a strategy to undermine Fidel Castro's government. Cuba's national currency, the peso, cannot be used with international partners.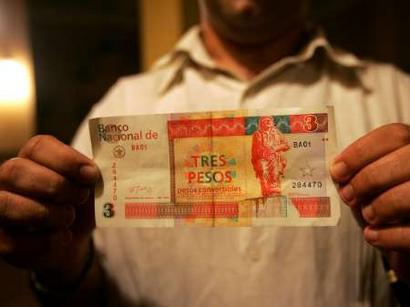 A Cuban waiter holds a three convertible Cuban Peso note, with an image of late guerrilla leader Ernesto 'Che' Guevara, in Havana, October 25, 2004. Cuban President Fidel Castro, seeking to rid his country of the currency of his arch-enemy, said on Monday Cuba was ending circulation of the U.S. dollar as of November 8 in response to tightened American sanctions. [Reuters]

"Beginning on November 8, the convertible peso will begin to circulate in substitution of the dollar throughout the national territory," Castro said in a written message read by his chief aid Carlos Valenciaga.

In his message, Castro asked Cubans to tell relatives living abroad to send them money in other foreign currencies, such as euros, British sterling or Swiss francs.

The move announced Monday was likely to hurt mostly those Cubans who receive American dollars from relatives living in the United States.

Cubans and others on the island can still hold dollars in unlimited quantities and can change them into pesos before the new policy takes effect. But they will have to pay a 10 percent charge to exchange dollars afterward.

The U.S. dollar has been a primary form of currency in Cuba since the early 1990s, when the island government was forced to implement liberal reforms to cope with the loss of Soviet aid and trade. The possession of dollars was legalized in 1993 to draw hard currency from tourism and from family purchases at state stores.

The government said the change is necessary to protect its economy as the Bush administration seeks to punish banks and businesses that ship American dollars to Cuba, which has been under an U.S. trade and financial embargo for more than 40 years.

Those U.S. measures, which went into effect this summer, were designed to reduce hard currency on the island by limiting how often Cuban-Americans can visit relatives, decreasing how much they can spend, and prohibiting money transfers to Cuban officials and Communist Party members.

Castro looked animated, despite the bright blue sling he sported over his olive green uniform to support a broken right arm. Castro has made a point of remaining involved in government affairs since accidentally falling Wednesday at a speech, also shattering his left kneecap.

Cuba also has been seeking to draw attention to a U.N. General Assembly vote scheduled for Thursday on condemning America's trade embargo against the communist nation.

The measure was tied to the U.S. Federal Reserve's decision in May to fine Switzerland's largest bank, UBS AG, $100 million for allegedly sending American dollars to Cuba, Libya, Iran and the former Yugoslavia in violation of U.S. sanctions against those countries. UBS agreed to pay the fine without admitting the allegations.

Cuba also blamed stepped up American sanctions against the island in May when it increased prices from 10 percent to 30 percent on everything from cigarettes and cooking oil to refrigerators.

In another move aimed at capturing more foreign currency for government reserves, Cuban state companies last year stopped conducting business with each other in U.S. dollars. Any hard currency received from exports or sales had to then be sold to the central bank.

The U.S. embargo was imposed in 1963 in the wake of Castro's defeat of the CIA-backed assault at the Bay of Pigs two years earlier. Americans are barred from traveling to the Caribbean island nation except with a U.S. government waiver.




Today's Top News
Top World News

Nation opposes US arms sales to Taiwan, Hu says




China trade to reach US$1.1 trillion in 2004




Nine provinces may face winter blackouts




Housing price up 13% in first three quarters




Kerry leads Bush in paper endorsements




Insurance firms get greenlight on stocks