Sharon: Gaza plan only way to security
(Agencies)
Updated: 2004-10-26 09:02
Israeli Prime Minister Ariel Sharon opened a stormy debate in parliament Monday with a passionate appeal to lawmakers to support his Gaza withdrawal plan ! which has divided the country and weakened his government ! as the only way to secure Israel's future.
The withdrawal would mark the first time Israel has pulled down Jewish settlements in the West Bank or Gaza, and Sharon is hoping a decisive victory in a parliamentary vote scheduled for Tuesday will blunt calls for a national referendum on the plan.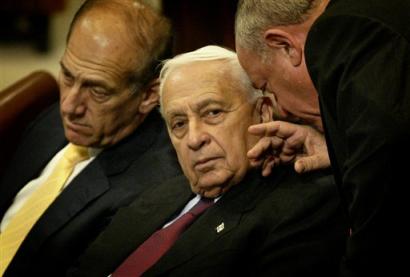 Israeli Prime Minister Ariel Sharon confers with an unidentified official during a special session in the Knesset, Israel's parliament, about his government's proposed 'disengagement plan' in Jerusalem Monday, Oct. 25, 2004. Sharon told the parliament he is determined to press ahead with his plan to withdraw from the Gaza Strip and part of the West Bank, but remains open to peace talks with the Palestinians after their violent uprising ends. At left is Deputy Prime Minister Ehud Olmert.[AP]

"This is a fateful moment for Israel. We are dealing with a difficult decision that has few parallels," he said in a speech repeatedly interrupted by heckling from hard-line opponents.

The two-day debate in the Knesset is the climax of a monthslong confrontation over the "unilateral disengagement" plan, which Sharon has pushed despite strong opposition from much of his Likud Party and the threat that it could destroy his coalition government.

As the debate began, violence flared in Gaza, with Israeli troops killing 15 Palestinians and wounding 91 others in a raid on the Khan Younis refugee camp to halt Palestinian mortar fire at nearby settlements. Two Israeli soldiers were wounded.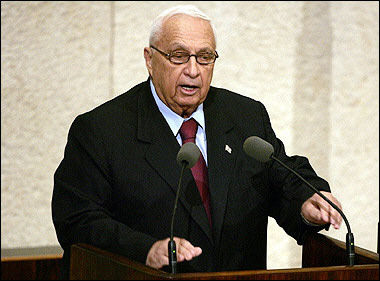 Israeli Prime Minister Ariel Sharon addresses the Knesset, or parliament, in Jerusalem. [AFP]

Violence in Gaza has increased in recent months, with Palestinian militants trying to prove they are forcing Israel out, and Israel seeking to crush the militants to show it is not withdrawing under fire.

Sharon says his plan to leave Gaza and pull down four small West Bank settlements is vital to ending four years of devastating violence in the region. Jewish settlers accuse Sharon of caving in to Palestinian violence and fear the withdrawal will be the first step in a larger pullback.

Palestinians view the plan with skepticism and worry that Sharon hopes to use the limited withdrawal to mute international criticism of Israel and strengthen its hold over large parts of the West Bank and East Jerusalem, lands the Palestinians claim for a state.

The program, which will uproot 8,800 settlers, is a sharp reversal for the premier, who was once the settlers' top patron in the government. Sharon said supporting the withdrawal was the most difficult decision of his long career.

"I know the significance of the Knesset's decision for thousands of Israelis who have lived for many years in the Gaza Strip, who were sent there in the name of Israeli governments, and built their homes there. Who planted flowers and trees, and brought up their children, who have never known another home," he said. "I know this well. I sent many."

Sharon said his plan was not intended to replace negotiations with the Palestinians in the long run.

"It is a necessary step during a period in which negotiations are not possible. All is open when terror ! this murderous terror ! stops."

The plan has sharply divided Sharon's Likud Party, with nearly half the 40 Likud lawmakers saying they will vote against it, forcing Sharon to rely on the support of dovish opposition parties.

Sharon is expected to win Tuesday's vote, but will need a solid margin of victory to silence opponents' demand for a national referendum.

Sharon opposes a referendum, which would take months to prepare, as a stalling tactic and said it would only increase the divisions and the hatred on both sides. However, several Cabinet members, including Finance Minister Benjamin Netanyahu, have called for a national vote.

Media reports say Sharon should get at least 65 votes ! and possibly as many as 70 ! in the 120-member Knesset, with fewer than 48 lawmakers voting against the plan.

The withdrawal plan has stirred passions on both sides.

Thousands of supporters demonstrated outside the Knesset on Monday night, singing songs, waving Israeli flags and holding signs reading "leaving settlements ! a choice for life" and "leave Gaza immediately."

Opponents plan a major demonstration of their own before the vote Tuesday.

In the Gaza settlement of Neve Dekalim, dozens of settlers gathered around a campfire Monday evening to burn letters the government sent them offering advance compensation payments if they agree to leave the settlement early.

Sharon was repeatedly heckled during his speech, with hard-liners yelling for him to resign and calling him a traitor. Three lawmakers were ejected for repeatedly interrupting the prime minister.

Reaching beyond parliament, Sharon appealed Monday for support from the Israeli public, which polls show strongly supports his plan.

"I call on the people of Israel to unite in this fateful moment, to allow us ... to erect a dam against the hatred among us," he said.

Tuesday's vote is the first of several that Sharon will need to win for the plan to be implemented next year. Sharon told Likud lawmakers Monday that a final government vote on the withdrawal will come in June or July.

Sharon's government remains in danger of falling over other issues, including the budget.

Also Monday, Israel agreed to let Yasser Arafat leave his Ramallah compound for the first time in 2 1/2 years for medical treatment in the West Bank city, raising concerns the Palestinian leader is seriously ill.

The Defense Ministry said it made the decision after a request from Palestinian officials. But Palestinian spokesman Saeb Erekat denied the Palestinians asked for such permission and said Arafat will not take up the offer.

The 75-year-old Arafat has been suffering from the flu, but is recovering, Palestinian officials said.

The Israeli media has speculated that Arafat may be far more ill than has been disclosed and may actually have cancer. Arafat's health became the subject of intense speculation after Tunisian and Egyptian doctors were flown in to examine him in recent weeks.




Today's Top News
Top World News

Nation opposes US arms sales to Taiwan, Hu says




China trade to reach US$1.1 trillion in 2004




Nine provinces may face winter blackouts




Housing price up 13% in first three quarters




Kerry leads Bush in paper endorsements




Insurance firms get greenlight on stocks