Bush, Kerry spar over Iraq, security
(Agencies)
Updated: 2004-10-26 08:50
Sen. John Kerry cited the Iraq war and a huge cache of missing explosives Monday as proof President Bush has "failed the test of being commander in chief." The Republican slammed his rival as "consistently and dangerously wrong" on national security matters.
In a race of ever-escalating rhetoric, the president also accused the Democratic challenger of "the worst kind of Monday-morning quarterbacking" on the wars in Afghanistan and Iraq. But he fell silent on the disappearance of 377 tons of high explosives in Iraq, leaving it to aides to explain.
Public polls in the major battleground states of Pennsylvania, Ohio and Florida were so close that both camps had cause for optimism — and room for doubt. And with only eight days to go, there were signs that the field of competition might be widening.
Democrats fretted about a tight race in Hawaii and made plans to advertise to voters in the state.
Polls showed a tightening race in Arkansas, a state the president won four years ago and the Democrats had virtually given up for lost this time. The president's high command was concerned, as well, about New Hampshire, in Bush's column four years ago, trending Kerry's way in the race's final days.
Long-planned events blended with the unexpected in a campaign already marked by unpredictability.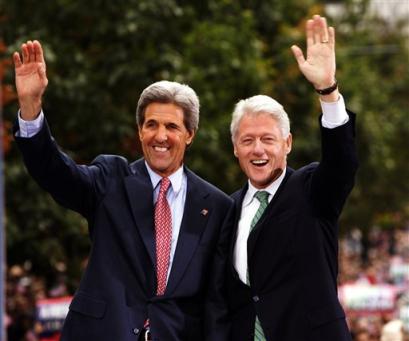 Former president Bill Clinton, right, making his first appearance since his heart surgery joins Democratic presidential candidate Sen. John F. Kerry, D-Mass, at a campaign rally in Philadelphia Monday, Oct. 25, 2004.[AP]

Former President Clinton joined Kerry at a noontime rally in Philadelphia that drew tens of thousands. "If this isn't good for my heart, I don't know what is," Clinton said, looking thinner seven weeks after bypass surgery.

Supreme Court officials announced that Chief Justice William H. Rehnquist, 80, is undergoing treatment for thyroid cancer and is expected to return to work next week. The statement served as a reminder that the next president is likely to have more than one appointment to an aging court that is divided on abortion, gay rights and more.

Word of the disappearance of explosives from a military installation in Iraq was like a campaign gift to Kerry, and he quickly put it to use.

Failure to secure the material was "one of the great blunders of Iraq, one of the great blunders of this administration," the four-term Massachusetts senator said in New Hampshire, his first campaign stop of the day.

"Terrorists could use this material to kill our troops, our people, blow up our airplanes and level buildings."

"...The unbelievable blindness, stubbornness, arrogance of this administration to do the basics has now allowed this president to once again fail the test of being the commander in chief," Kerry said.

Bush gave as good as he got. "On Iraq, my opponent has a strategy of pessimism and retreat," he said in Greeley, Colo.

That was mere warmup, though.

He accused Kerry of "throwing out the wild claim that he knows where Osama bin Laden was in the fall of 2001 — and that our military had a chance to get him in Tora Bora."

That was a reference to Kerry's frequent assertion that the administration "outsourced" the job of hunting down bin Laden to Afghan warlords.

"This is an unjustified and harsh criticism of our military commanders in the field," Bush said. "This is the worst kind of Monday-morning quarterbacking."

Beyond Iraq, Bush cited Kerry's opposition to the first Persian Gulf War, his proposal for cuts in the intelligence budget in 1994 and his position on former President Reagan's defense buildup in the 1980s. Together, they show that "on the largest national security issues of our time, he has been consistently and dangerously wrong."

White House spokesman Scott McClellan sought to allay concern over the threat posed by 377 tons of explosives missing from the Al Qaqaa military installation.

He told reporters no nuclear material was involved, and gave reporters an accounting of weapons found, not those lost.

"We have destroyed more than 243,000 munitions," he said. "We've secured another nearly 163,000 that will be destroyed."

At the Pentagon, an official who monitors developments in Iraq said U.S.-led coalition troops had searched Al Qaqaa in the immediate aftermath of the March 2003 invasion and confirmed that the explosives were intact. Thereafter the site was not secured by U.S. forces, the official said, speaking on condition of anonymity.

With the race in its final full week, the pace of the campaigning picked up — as did the involvement of the courts.

Kerry campaigned from New Hampshire to Wisconsin during the day by way of Pennsylvania and Michigan. Aides mapped a plan for a 72-hour marathon leading to Election Day.

Bush went from his ranch in Texas to Colorado, Iowa and Wisconsin as he sought the 270 electoral votes needed for a second term.

The pace of legal maneuvering was picking up, as well, as both parties anticipated a close finish.

In Florida, U.S. District Judge James I. Cohn ruled the state is not required to create a paper record of ballots to be available in case of a recount. In somewhat of an understatement, Cohn said the case "is of great public importance," and promised to issue a written order quickly to permit an appeal.

Florida was the site of a bitterly contested recount in 2000 that eventually went to the Supreme Court — Rehnquist presiding. A 5-4 court ruling sealed Bush's 537-victory in the state, propelling him to the White House.




Today's Top News
Top World News

Interest rates raised for first time in a decade




Nation takes firm stance on arable land




More job vacancies reported in third quarter




China raises pension for enterprise retirees




Traffic law shores up road safety




Sick Arafat heads to Paris, cancer suspected