A 14-year-old girl was confirmed as being the 12th person in Thailand to die this year from bird flu, health officials said.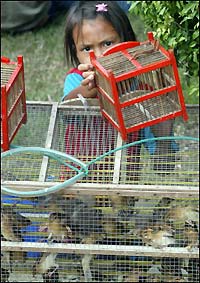 A Thai girl holds a cage while waiting for clients to buy birds at a stall in Bangkok. A 14-year-old girl was confirmed as being the 12th person in Thailand to die this year from bird flu, health officials said. [AFP]

Test results confirmed that the girl from the northern province of Sukhotai, who died six days ago but has not been named, had the deadly H5N1 strain of the virus.

"She was on the list of suspected cases after she died after being sick for 11 days," said Charal Trinvuthipong, the director of Thailand's bird flu centre. "The lab test result found she had H5N1."

At least 19 people have also died of the disease in Vietnam since December last year and millions of birds have died or been culled across Asia.

Six Asian nations have reported a resurgence of the virus since July amid fears that the disease has become endemic in the region.

Five people have been confirmed as having bird flu in Thailand since the second wave of outbreaks, with four of them having died.

It was not immediately clear how the 14-year-old contracted the virus but all save one of the 11 previous deaths were linked to close contact between infected birds and humans.

An 11-year-old girl, who was cremated in September before full tests were carried out, is also listed as a "probable" case and is suspected of passing the disease to her mother who cared for her in hospital.

The mother also died from the country's first probable case of human-to-human infection of bird flu.

It raised fears that the virus could mutate into a highly contagious form and trigger a global human flu pandemic although officials said it appeared to be an isolated case.

A mutated flu outbreak was blamed for the deaths of as many as 40 million people worldwide in 1918.

Thai premier Thaksin Shinawatra announced a "war" on bird flu for October and told officials that he wanted the country cleared of the disease by the end of the month.

But bird flu was identified in 41 of Thailand's 76 provinces from October 1 to 22, more than at the start of the month, according to a statement from the bird flu centre. Nearly 270,000 birds have been culled in October alone.

A private tiger breeding zoo in Thailand also reported 83 of its animals have died or been culled after eating infected raw chicken.

The country's agriculture minister was replaced earlier this month in a wide-ranging cabinet reshuffle as he paid the price of failing to halt the spread of the disease in the kingdom.

Thailand will host a ministerial-level regional conference on bird flu next month as part of a long-term eradication project with the crisis damaging the nation's poultry business.

Thailand was one of the world's largest exporters before the outbreak but has been by import bans including from Japan and the European Union.

A Thai man tried to smuggle two bird-flu infected eagles into Belgium on Sunday in a bag before being halted by customs men. The authorities were trying to contact fellow passengers for precautionary tests.