Government gift auction draws crowd
(eastday.com)
Updated: 2004-10-25 15:11
Nearly all government gifts on auction yesterday were sold out in the first ever sale of its kind held in Shanghai.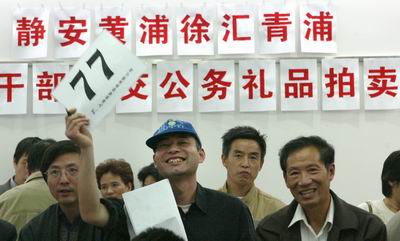 A man bids on the auction in Shanghai, October 24, 2004. Some 241 items of the municipal government gifts were auctioned off. [ce.cn]

The auction held on Kangding Road, Jing'an DistrictŁ¬Shanghai, took more than three hours to finish as bidders could choose from items ranging from sports shoes to a Rolex watch.

The items were given as gifts to officials in the Jing'an, Huangpu, Xuhui and Qingpu districts of the Chinese biz hub Shanghai.

The auction aimed to show government transparency and to educate people not to try and bribe officials.

The auction hall, which could only seat 100, was crowded with nearly 300 people, according to the Shanghai Trusty Auction Co Ltd that ran the sale.

The people present at the hall include ordinary residents and some businessmen, company officials said.

Of the 248 items, only seven went unsold.

The 241 items auctioned off, with a combined floor price of about 80,000 yuan (US$9,639), sold for more than 120,000 yuan, according to the auction company.

The final sales income was in line with the company's pre-auction estimate, as the items were valued at about 100,000 yuan in total.

"The auction was a big success," said Zhang Yong, an auctioneer with the company.

The most expensive item, a Rolex watch priced at 14,000 yuan, didn't find a buyer until around 20 bids were offered.

It was sold for 24,000 yuan at last, with 500 yuan added onto each bid. The successful bidder was a man around 50 years old, the auctioneers said. They declined to reveal his name or career.

"The unsold items are merely pieces that have been overused and damaged a little, or the price bid was a little high," said Zhang.

The unsold items include an electronic watch, a teapot, two pieces of jade ornaments, as well as some small pieces.

A gold-gilded book of poetry and lyrics by Chinese former leader Mao Zedong also went unsold, said Zhang, attributing it to the high minimum of 6,000 yuan.

Other expensive goods, including an Olympus camera, a bottle of expensive liquor, shirts, silk, a portable computer, a gold necklace, a box of ginseng, stamps and various souvenir coins all sold.

The money will go back to the various districts.





| | |
| --- | --- |
| | |
| Zhang Ziyi's Hong Kong u-turn in interview | |

| | |
| --- | --- |
| | |
| Zeta-Jones sues over image on topless web site | |

| | |
| --- | --- |
| | |
| Ashlee Simpson paying lip service to fans | |
Today's Top News
Top Life News

Nation opposes US arms sales to Taiwan, Hu says




China trade to reach US$1.1 trillion in 2004




Nine provinces may face winter blackouts




Housing price up 13% in first three quarters




Kerry leads Bush in paper endorsements




Insurance firms get greenlight on stocks