China hosts bullfights; no animals killed
(Agencies)
Updated: 2004-10-24 09:33
China's first Spanish bullfights Saturday went well for the bulls — none were killed in the ring.
The fights, complete with Spanish matadors and fighting bulls imported from Mexico, drew several hundred curious spectators to a bullring inside a soccer stadium in Shanghai's northern suburbs.
Bulls were taunted, pricked with skewers and stabbed with spears but then were ushered out of the ring before any death blows were delivered.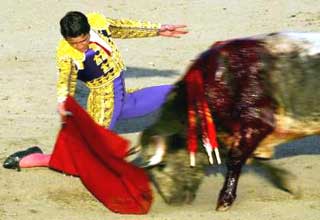 A Spanish matador teases a bloodied bull during a Spanish bullfight in Shanghai, October 23, 2004. Shanghai hosted China's first-ever Spanish bullfight at Yangpu Stadium as part of 'Amazing Spain 2004,' promoting Spanish culture in the country. The bulls came from Mexico after Shanghai quarantine authorities said Spain was on the list of Mad Cow disease countries and no imports of bulls from there would be allowed to enter the mainland. [Reuters]
"In keeping with Chinese cultural sensitivities, the bulls will not be killed," said a broadcaster speaking over the public address system at Yangpu Stadium.
White towels were passed out for spectators to wave, the traditional Spanish signal for the matador to spare the bull. But no word was given on the animals' ultimate fates.
"It's really something different," said city government worker Yu Liang, before calling, "Be careful!" as a bull made another pass at matador Guillermo Alban.
Eight bulls were imported for the fights at a cost of more than $120,000.
The bullfights add to a list of sometimes bizarre spectacles organized to build Shanghai's image as a vibrant, cosmopolitan city and to take advantage of the rising incomes of its citizens — already the highest in China.
Recent high-profile events have included China's first Formula One race, an Italian festival featuring a five-story-high replica of the Leaning Tower of Pisa and parachute jumps off the city's tallest skyscraper.
Today's Top News
Top China News

BHP: China, India will sustain global economy




Japan quake kills 17; aftershocks strike fear




China to launch solar telescope in 2008




Bush and Kerry trade barbs over security




Rural dwellers get better medicare service




Deepening reform after coal mine accident