Deepening reform after coal mine accident
(Xinhua)
Updated: 2004-10-24 09:19
The fatal gas blast in Dapingcoal mine, Henan Province, has left 79 dead and 69 others missing with slim chance of survival by Saturday afternoon, while another 57 people were reported killed or missing in three other coal mineaccidents this week.
At 22:10 Wednesday night, the explosion triggered off by a gas outburst ripped through Daping coal mine. Only 298 out of the 446 miners working underground escaped.
Some 50 minutes earlier, a coal mine gas blast left six people dead and another seven still missing in Chongqing, southwest China.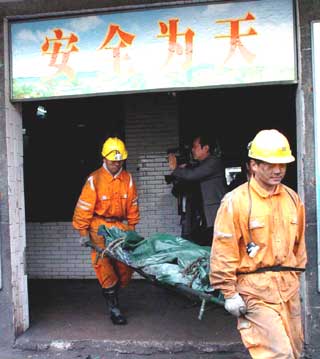 Two rescuers carry the body of a dead miner out of the coal pit in the Daping Coal Mine in Central China's Henan Province October 21, 2004. The Chinese characters above the gate read "Safety Is the Utmost Priority." [newsphoto]
At about 6:00 Wednesday morning, 29 miners were trapped in a coal mine stricken by flooding in Wu'an City of Hebei Province, central China, and there has had no report of survival so far.
Two days later, 15 miners were added to the national death toll of coal mine accidents when a gas explosion took place Friday in Guizhou Province, southwest China, which also left five others injured.
Some ten hours after the Daping accident, Sun Huashan, deputy director of the State Administration of Work Safety, announced at a press conference in Beijing that death toll of coal mine accidents in the January-August period this year totaled 3,457. Sun confirmed the Daping accident was the deadliest one so far this year.
"Four fatal accidents in no more than one week, it's unimaginable," said Li Xiguang, a professor with Qinghua University, Friday. "The fact that fatal accidents take place as frequently as this indicates new problems emerging in the fast economic growth."
Prof. Li, who once worked as a coal miner, said that the central government attaches great importance to the principle of "putting the people first" and work safety. However, many coal mines were so shortsighted as to fail to invest enough in safety facilities while exploiting the backward aging equipment for as much profits as possible, which explains the frequent accidents here and there.
"There are still a lot of loopholes in safety management of coal mines throughout the country," Sun said, adding that most of the coal mines have to overload themselves in production partly because of the short supply at the coal market.
Actually, overload has become a major approach for output growth in the coal industry in China, the world's biggest consumerand producer of the fossil fuel.
According to the administration, around one third of state-owned coal mines are overloaded, which brings them closer to accidents and puts pressure on sustainable development.
China's coal production is forecast to top 1.9 billion tons this year, surpassing the current production capacity.
Many observers reached by Xinhua Friday blamed enterprises' poor awareness of production safety as the major factor behind thefrequent accidents.
"Driven by interests, many companies just want to maximize profits and minimize costs, and are reluctant to invest more in measures to ensure work safety," said Li Dun, a sociologist with Qinghua University.
China now has more than 300 million surplus workers and they appear as the weak group in the employment market. "No matter how dangerous the work is and how low the pay is, miners dare not say anything about it because mine owners have a long list of job-seekers in hand," said Li.
Li called on the government to deepen reform for narrowing the gap between urban and rural areas, between different regions and between different industries in line with the principle of puttingpeople first and achieving sustainable development.
"This is the only way out if we want to prevent accidents from occurring in coal mines at such a high frequency," the scholar added.
The Daping mine, affixed to state-owned Zhengzhou Coal IndustryGroup, has suffered from three fatal accidents before, and other mines of the group also witnessed frequent occurrence of accidents.
"This indicated the poor management of state-owned enterprises," said Li, adding that accelerating the establishment of a modern corporate system and the reform of property rights will help improve the capability of enterprises to deal with work safety.
Ding Yuanzhu, professor with Beijing University, linked the accidents to the enhancement of the Party's governance capability.He said that dealing with all kinds of crisis in a proper way has become an important part of the governance capability of the Communist Party of China.
"But some local governments are barely not aware of the importance of risk management for China's economic and social development, and they are not duly competent in building a harmonious society," said Prof. Ding.
"Governments at all levels should learn something from the Daping mine accident and think over seriously what should be done to better serve the people," said the professor.
Today's Top News
Top China News

BHP: China, India will sustain global economy




Japan quake kills 18; aftershocks strike fear




China to launch solar telescope in 2008




Bush and Kerry trade barbs over security




Rural dwellers get better medicare service




Deepening reform after coal mine accident