Kindergarten murder suspect arrested in Beijing
(Xinhua)
Updated: 2004-10-23 15:37
A 31-year-old man suspected of murdering two persons in a kindergarten in China's capital Beijing on Thursday has been arrested, sources with the Beijing Municipal Public Security Bureau said Saturday.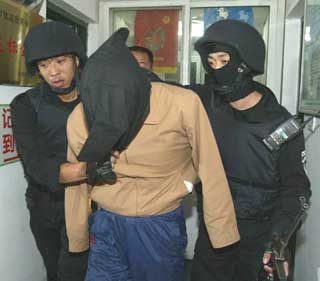 Police take Fu Hegong, the suspect murderer of a child and nursery attendant in Beijing, away from a hotel in Beijing in the early hours October 23, 2004. [chinanews.com.cn]

A spokesman for the bureau said that the suspect, Fu Hegong, was arrested in a hotel at about 2:00 a.m. Saturday.

A 44-year-old nursery attendant, He Yufen, and a five-year-old boy were found dead around 6:00 a.m. Thursday in the Beixin Kindergarten located in the city's Dongcheng District.

Primary investigation showed that they were murdered and then the hunting for the suspect started immediately, said the spokesman.

The spokesman said that Fu had confessed the robbery and murder. Further investigation is under way.

Fu came from Miyun, a suburban county of Beijing. In 1996, he was sentenced to seven years in prison in north China's Hebei Province for theft and was set free in 2001 ahead of his prison term.

The boy's body was found with no obvious wounds, but the teacher had been hit on the head in Thursday morning's attack, the newspaper said.

Seven teachers and four children had spent the night at the Beixin Kindergarten in the east of the capital, the daily said.

Earlier this month, a Chinese primary school teacher stabbed four children to death and wounded 12 pupils and four colleagues in the central province of Hunan.

Earlier last month, a man wielding a knife and homemade bombs attacked 28 children in a kindergarten in the eastern city of Suzhou, just outside Shanghai. No one was killed.

On Aug. 4, a janitor wielding a kitchen knife stabbed 15 children and at least two teachers at a kindergarten in Beijing, killing one child.






Today's Top News
Top China News

Economy grows 9.1% in third quarter




Blast death toll rises 77; search continues




Draft property rights law to be discussed




US limits sock imports from China




Bush, Kerry turn campaigning into a zoo




Beijing adopts much debated traffic rules