Blast death toll rises to 79; search continues
(chinadaily.com.cn/Agencies)
Updated: 2004-10-23 15:19
The death toll from a devastating coal mine gas explosion in central China's Henan province rose to 79 as rescuers continued to search for any survivors, state media reported.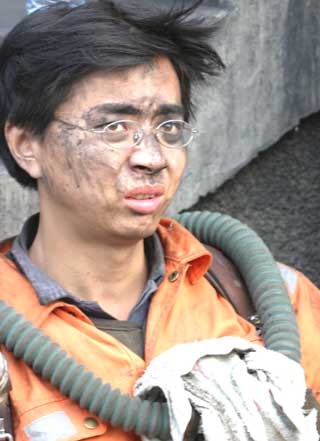 An exhausted rescuer takes a break after searching for survivors underground at a Xinmi coal mine in Central China's Henan Province October 22, 2004. The death toll from the mine gas blast Wednesday night has risen to 79, with 69 others still missing. [newsphoto]

Efforts were continuing round the clock to recover 69 others still listed as officially missing, although officials have acknowledged that hopes of any of them being pulled out alive are extremely slim.

Xinhua news agency said that the bodies of 11 miners had been recovered from the pit overnight after Wednesday's blast.

Rescuers were getting closer to the site of the underground explosion some 300 metres underground and around 3.5 kilometres from the mine head.

The accident was one of the worst in recent memory for China's notoriously dangerous mines, where lax safety practices are blamed for the deaths of thousands of miners every year.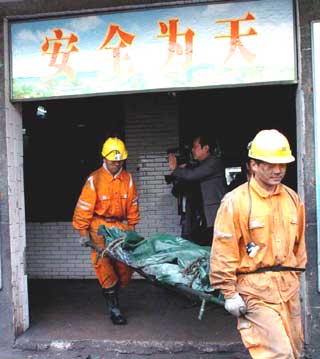 Two rescuers carry the body of a dead miner out of the coal pit in the Daping Coal Mine in Central China's Henan Province October 21, 2004. The Chinese characters above the gate read "Safety Is the Utmost Priority." Death toll from the mine gas blast has increased to 79, and 69 are still missing. Rescue operation still goes on. [newsphoto]

President Hu Jintao and Premier Wen Jiabao have ordered local officials in Henan Province to use"every possible means" to reach the trapped men, reports Xinhua.

A total of 446 miners were working underground when a blast ripped through the Daping Coal Mine, part of the State-owned Zhengzhou Coal Industry Group on Wednesday evening. Two hundred and ninety-eight miners managed to escape, but the rest were trapped underground.

Production was suspended at all the coal mines belonging to the group for work safety inspections.






Today's Top News
Top China News

Blast death toll rises to 79; search continues




US limits sock imports from China




Quakes hit Japan; 3 dead, over 300 injured




Economy grows 9.1% in third quarter




Draft property rights law to be discussed




SARS came from S. China civet cats -- study