SARS came from S. China civet cats -- study
(Xinhua)
Updated: 2004-10-23 10:08
Civet cats were confirmed to be host of the severe acute respiratory syndrome (SARS) outbreaks in south China's Guangdong Province in late 2002, but the animal was harmless in north China.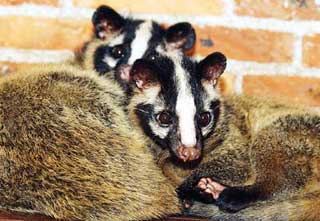 Civet cats. [file]

Professor Zhong Nanshan, a Guangzhou-based medical expert, who helped control and treat SARS during the outbreaks, made the remark at a seminar on lung diseases recently held in Guangzhou, capital city of Guangdong Province.

Studies of 103 civet cats' blood samples collected across China show that 70 percent of the sampled civet cats from Guangdong Province possessed SARS virus while cats from other places such as north China's Hebei Province and east China's Jiangxi Province were free of the virus, said Zhong.

The study, being conducted this year, also found that the SARS virus separated from Guangdong civet cats is of the same as that of SARS patients affected in previous outbreaks, reports Information Daily.

The research of experts from Guangdong and Hong Kong indicates that many of the earliest SARS patients were civet-cats-contactingcooks and foreign traders, further stamping civet cats as the probable source of SARS epidemic.

Currently, it is unclear whether civet cats are source of the deadly SARS disease and how the SARS virus was transmitted from civet cats to human beings, said the professor.

Guangdong Province has launched a preventive plan including a ban on consumption of civet cats in local restaurants to avoid newSARS outbreaks this winter.





Today's Top News
Top China News

Blast death toll rises 79; search continues




Economy grows 9.1% in third quarter




Draft property rights law to be discussed




US limits sock imports from China




Abducted aid worker in Iraq begs for life




Bush, Kerry turn campaigning into a zoo