7 killed in US air raids on Fallujah
(Xinhua)
Updated: 2004-10-22 17:13
US warplanes and artillery pounded the Iraqi flashpoint city of fallujah overnight, killing seven people and wounding six others, witnesses and hospital sources said on Friday.
"Seven bodies were brought to the hospital and six wounded, and most of them were brought from Shuhadaa district," said Dr. Saleh Hussein al-Issawi from Fallujah General Hospital.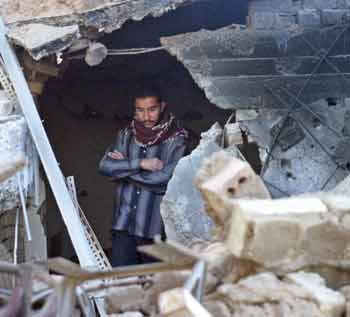 An Iraqi man surveys the ruins of a destroyed house in Falluja the morning after a U.S. air strike October 22, 2004. [Reuters]

Late Thursday, US aircrafts carried out strikes on Shuhadaa district south of the city as fierce clashes burst out between the US forces and insurgents in the industrial area southeast of the city, Xinhua correspondent in Fallujah reported. Five houses were also destroyed in the air strikes on Shuhadaa neighborhood.

"Insurgents in southeast of the city fired on US Marine's positions with small arms, rocket propelled grenades and mortars, destroying a tank and two Humvees," said residents.

US forces have been targeting Fallujah for weeks in a bid to root out foreign fighters including Jordanian-born Abu Musab al-Zarqawi, who they claimed was hiding in the city.

Iraq's US-backed interim government warned that it would launch a major offensive in Fallujah if the city did not hand over Zarqawi and his followers.




Today's Top News
Top World News

Free trade pact with ASEAN in sight




Coal mine blast kills 62 workers, traps 86




Economy grows 9.5% in first nine months




Farmers sickened by kitchen smoke




Cathay Pacific targets Air China IPO shares




Study: US presidential race most expensive