Britain agrees to move troops closer to Baghdad
(Agencies)
Updated: 2004-10-22 09:34
Britain agreed on Thursday to send troops to dangerous areas near Baghdad, a politically perilous step for Prime Minister Tony Blair who could face a sharp backlash if casualty rates start rising.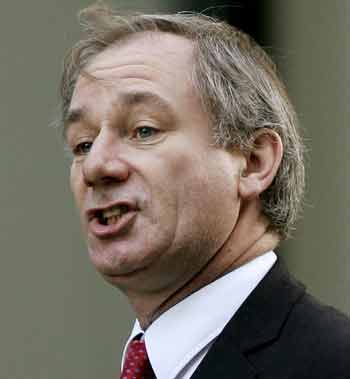 Britain's Defence Secretary Geoff Hoon arrives for a Cabinet meeting in Downing Street in London, October 21, 2004. [Reuters]

Defense Secretary Geoff Hoon said about 850 personnel would move north for a period of weeks not months to allow U.S. troops to tackle insurgents elsewhere in Iraq, amid suggestions that an onslaught on rebel-dominated Falluja is not far off.

"This deployment is a vital part of the process of creating the right conditions for the Iraqi elections to take place in January," he told parliament.

U.S. military chiefs asked UK forces to move to volatile areas near Baghdad to free up American troops to tackle hotspots like Falluja before the planned elections.

"We share ... a common goal of creating a secure and stable Iraq where men, women and children in towns like Falluja can feel safe from foreign terrorists," Hoon said.

Politicians, many in Blair's Labour party, are aghast at the prospect of British troops being moved to higher-risk areas.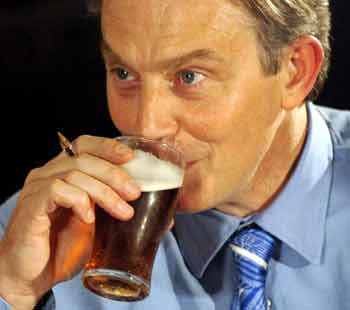 Britain's Prime Minister Tony Blair sips a drink during a question and answer session with local residents at the Spitfire Pub in Thornaby, Teesside, northern England October 21, 2004. Britain agreed on Thursday to send troops to dangerous areas near Baghdad, a politically perilous step for Blair who could face a sharp backlash if casualty rates start rising. [Reuters]

Until now, the British have been concentrated in a relatively quiet zone of southern Iraq around the city of Basra. Since the Iraq war began, 68 British troops have been killed compared with more than 1,000 Americans.

In the United States, the White House welcomed London's troops decision and praised "tremendous sacrifices" made by Britain and other countries in the U.S.-led coalition in Iraq.

But a senior U.S. administration official dismissed as "preposterous" suggestions by Blair critics that the British troops redeployment was linked to President Bush's reelection bid on Nov. 2.

"It is clearly a request made by military commanders based on military needs," said the official, who asked not to be named.

Some of Blair's domestic critics have sharply attacked him.

"Doesn't he think that it is slightly ironic that the American president and his vice president who both refused to face the muck and bullets in Vietnam are now calling on British forces to bail them out," asked Labour veteran Dennis Skinner.

Officials insist the U.S. electoral timetable has nothing to do with the redeployment. Nonetheless, if the British and Iraqi civilian fatality count rises, Blair will suffer politically with a British election expected in May next year.

Blair biographer Philip Stephens said the move had again shown the capacity of Iraq to wreck any efforts to refocus debate on the domestic politics that decide UK elections.

"If those British troops were to come under sustained attack and suffer heavy casualties, then I think there will be another political price to pay for Tony Blair," Stephens said.

Hoon gave no precise details about when the Black Watch battalion would move or to where. But he said they would remain under the operational command of British not American chiefs.

Officials said the force would move nearer Baghdad but not to the capital or Falluja. "You will know when they get there," said Britain's chief of defense staff Sir Michael Walker.

Military sources have said an onslaught on Falluja may quickly follow once the British troops are in place. Witnesses said U.S. tanks and warplanes bombarded suspected guerrilla positions in the city on Thursday.

Walker said the Black Watch would only operate up-country for around 30 days. At that point, they would be replaced if that was required and not necessarily by British troops.




Today's Top News
Top World News

Coal mine blast kills 62 workers, traps 86




Free trade pact with ASEAN in sight




Car production lower than expected




Farmers sickened by kitchen smoke




Cathay Pacific targets Air China IPO shares




Study: US presidential race most expensive