Deadliest typhoon kills 55 in Japan
(Agencies)
Updated: 2004-10-21 14:36
Japan's deadliest typhoon in more than a decade killed at least 55 people, officials said on Thursday as rescuers searched frantically for 33 still missing in floods and landslides.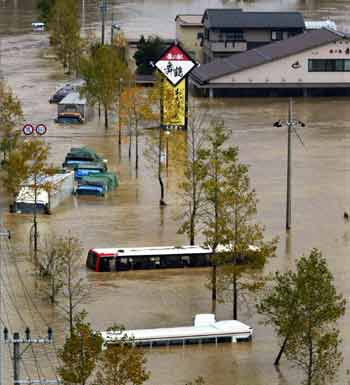 Trucks and buses are submerged in a river flood after deadly Typhoon Tokage brought heavy rain to the western Japanese city of Maizuru Japan October 21, 2004. Rescuers across Japan were searching for survivors on Thursday after Japan's deadliest typhoon in a decade triggered floods and landslides, local reports said. [Reuters]

Many people died in landslides set off by the heavy rains from Typhoon Tokage that pounded much of Japan on Wednesday. Others died in flooding or were swept away by massive waves as Tokage, which means lizard in Japanese, roared northeast.

The typhoon, which moved out into the Pacific early on Thursday and was downgraded to a tropical depression soon after, was a record 10th to hit Japan this year.

The death toll was the highest since the 62 people killed or still unaccounted for after a typhoon in 1991.

A total of 167 people, including 102 trainees aged around 20, were being slowly taken to shore from their ship, the 2,556-tonKaio Maru, which ran aground on a breakwater in the middle of the storm. Three suffered injuries such as broken wrists.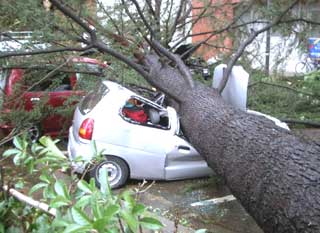 A vehicle is crushed under a fallen tree due to typhoon Tokage in Hiroshima, southwestern Japan October 20, 2004. Tokage -- which means "lizard" in Japanese -- hit western Japan on Wednesday, killing at least two people and snarling transport as it lashed the country with heavy rains that set off landslides and forced thousands to evacuate. [Reuters]

The ship was waiting out the typhoon at Toyama, 158 miles west of Tokyo, when 89 mile an hour winds and high seas swept it onto the breakwater, said an official at the National Institute for Sea Training, its operator.

A Coast Guard official said: "Waves were crashing onto the deck, making it impossible for the crew and trainees to get out themselves."

Television showed people holding on to power poles to stay on their feet as the storm swept up the coast toward Tokyo.

Among the dead were three people killed when high waves battered through a concrete breakwater and smashed into their home in Kochi, on Shikoku island in western Japan.

"The waves just came up and crashed down on us," one woman said.

Telephone poles stuck up out of muddy water that still covered vast areas near the ancient capital city of Kyoto.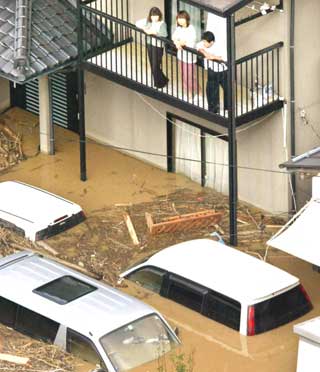 Residents stranded in their flooded home await rescue on their balcony October 21, 2004 after Typhoon Tokage brought heavy rain to the western Japanese city of Toyooka, Japan. Rescuers across Japan were searching for survivors on Thursday after Japan's deadliest typhoon in a decade triggered floods and landslides that killed at least 31 people and left 39 missing. [Reuters]

Rescuers in the western Japanese prefecture of Okayama dug through the rubble of seven homes crushed in a landslide, searching for possible survivors. Most of the areas hit by landslides were rural, and in many cases the houses were clustered just under steep slopes, a typical situation in mountainous Japan.

RARE TYPHOON

"The main reason why the typhoon caused such huge damage is that its size is big with a radius of over 300 miles. That means the typhoon affected almost all of Japan for a long time with rains and winds," a Meteorological Agency official said.

"Such a huge typhoon is very rare," he said.

Thirty-seven people, most of them elderly tourists, were forced to spend the night huddled together on top of a bus after being stranded by floodwater.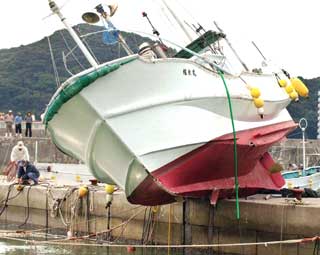 A fishing boat is washed ashore at an embankment from waves and winds caused by powerful Typhoon Tokage in the western Japanese town of Susami, Japan October 21, 2004. [Reuters]

They were rescued by helicopter and rubber boat early on Thursday. One elderly woman collapsed into her rescuer's arms.

"The wind was very strong, it was raining very hard, it was cold. We all held onto each other's shoulders to stay together," one man on the bus told NHK national television.

"We were very scared."

The storm sideswiped Tokyo, buffeting the city with strong winds and rain, before heading out to sea. It was downgraded to a tropical depression at around 9 a.m. on Thursday (2000 GMT on Wednesday).

During the worst of the storm, thousands of people were urged to evacuate to schools and public halls out of fear of flooding and landslides. At least 40,000 homes lost power.

Chief Cabinet Secretary Hiroyuki Hosoda promised government help for affected areas.

"I would like to express my heartfelt condolences ... We will take all possible measures," he told reporters.

Storms and floods have killed more than 100 people in Japan this year and caused hundreds of millions of dollars in damage. The previous typhoon, Ma-on, pummeled Tokyo and killed six people across the country earlier this month.





Today's Top News
Top World News

Police learning to deal with kidnapping




56 killed, 92 stranded in coal mine blast




IMF pressures China on flexible yuan




Typhoon kills 66 in Japan, deadliest in 22 years




Kids pick Kerry to be the next president




China shuts down illegal blood stations