56 killed, 92 stranded in coal mine blast
(Xinhua)
Updated: 2004-10-21 14:27
Ninety-two miners are still stranded underground in the gas blast accident in Daping coal mine in central China's Henan province, according to local sources.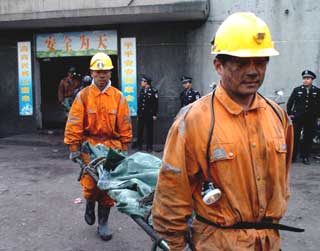 Two rescuers carry the body of a dead miner out of the mine pit in Xinmi, Central China's Henan Province October 21, 2004. [Xinhua]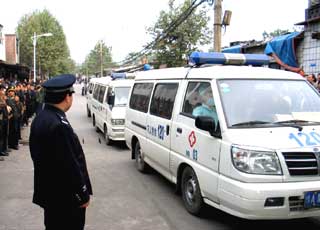 Ambulances arrive at the coal mine for the rescue operation October 21, 2004. [Xinhua]

Their conditions are still unknown, said a rescuer at the site. However, Deputy director of the State Administration of Work Safety Sun Huashan said that according to experiences in past coal mine disasters, the hope for those missing miners to come out alive is very weak.

The accident happened at 22:10 Wednesday. The gas monitoring system of the mine shows that from 22:09, the gas density increased from 1.49 percent to 40 percent in two minutes 27 seconds and expanded to the whole mine soon.

A total of 446 miners were at work underground when the accident occurred, and 298 miners escaped. So far, 56 miners have been confirmed dead. The 20 injured miners, including 4 severely injured ones, have been sent to the General Hospital of the Zhengzhou Coal Industry Group. But detailed casualty is unavailable so far.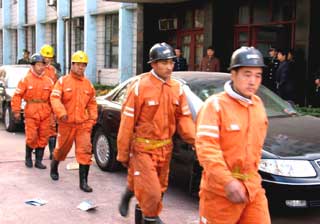 A team of rescuers rushes to the coal mine to join the rescue operation to save those trapped underground October 21, 2004. [Xinhua]

At the office building of the Daping Mine, bodies of victims were covered with green canvas and waiting for recognition. More than 20 people holding roster were checking names of them.

The local government has sent more than 1,000 rescue workers to the site right after the accident. At the site, the rescue work is still going on.

Located under the Songshan Mountain 40 kilometers to the southwest of Zhengzhou city, the state-owned mine has 4,100 employees now. Put into operation in 1986, the mine now has an annual production capacity of 1.3 million tons.


Miners wait outside the Daping Coal Mine for news about the fate of their coworkers trapped underground October 21, 2004. [newsphoto]
Today's Top News
Top China News

Police learning to deal with kidnapping




56 killed, 92 stranded in coal mine blast




IMF pressures China on flexible yuan




Deadliest typhoon kills 55 in Japan




Kids pick Kerry to be the next president




China shuts down illegal blood stations