Maillot joins the Romeo and Juliet season
(China Daily)
Updated: 2004-10-21 11:29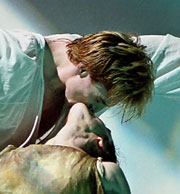 Eternal love: Les Ballet de Monte-Carlo will present "Romeo and Juliet."

A third version of Romeo and Juliet graces Beijing's theatre in October.

Ballet Basel led the season, followed by an opera production co-produced by Theatre Capitole of Toulouse and China Philharmonic Orchestra, featured Albanian soprano Inva Mula as Juliet and Chinese tenor Zhang Jianyi as Romeo.

With the touching score of Prokofiev, comes the lovers from Les Ballets de Monte-Carlo. The ballet will be performed at the Tianqiao Theatre on October 28 to 31.

Without doubt, French choreographer Jean Christophe Maillot's "Romeo and Juliet," which has been performed more than 150 times throughout the world and is usually greeted with a standing ovation, stands out as one of his major choreographic works.

The editing of this aesthetically spectacular piece, of marvelous rhythmic fluidity, is a display of Maillot's successful conjugation of modernity and classicism.

From the tragic story of the lovers from Verona, the choreographer has retained only the working plan and the principal characters, notably the lovers interpreted by Chris Roelandt as Romeo and Bernice Coppieters as Juliet.

In his version of "Romeo and Juliet," Maillot has taken inspiration from the episodic character of Prokofiev's score, structuring the action in a manner akin to a cinematic narrative.

Rather than focusing on the themes of political-social opposition between the two feuding clans, this "Romeo and Juliet" highlights the dualities and ambiguities of adolescence.

Torn between contradictory impulses, tenderness and violence, fear and pride, the lovers are caught in the throes of a tragedy that exemplifies their youth and the extreme emotions and internal conflicts that characterize that time of life.

There is no poison, there are no swords. The painter Ernest Pignon-Ernest has created a decor marked by transparency and lightness: The luminous white panels are resolutely modern and abstract, and all but a hint of the Renaissance is banished from the stage.

Born in Tours in 1960, Maillot studied classical dance and music at the local conservatory before completing his training at Rosella Hightower's International School of Dance in Cannes.

At 18, he was invited to join the Hamburg Ballet, where director John Neumeier created principal roles for him.

In 1983, Maillot was appointed as choreographer and director of the Ballet du Grand Theatre in Tours, one of France's National Choreographic Centres.

He choreographed some 20 ballets and in 1985 founded the festival "Le Choregraphique."

In 1992, Maillot joined Les Ballets de Monte-Carlo, first as artistic consultant and a year later was promoted to director and principal choreographer.




| | |
| --- | --- |
| | |
| Fat feline slims down on 'Catkins' diet | |

| | |
| --- | --- |
| | |
| Keira Knightley in Hollywood for award | |

| | |
| --- | --- |
| | |
| Back together again: Original Duran Duran | |
Today's Top News
Top Life News

Police learning to deal with kidnapping




Mine blast kills 56, 148 others feared dead




Deadliest typhoon kills at least 44 in Japan




Kids pick Kerry to be the next president




Northern cold front sends mercury plunging




Dirty, illegal blood stations shut down