Former CCTV deputy gets 11 years
(Shenzhen Daily)
Updated: 2004-10-21 10:48
Feng Ji, CCTV film and TV department's former deputy director, was sentenced to 11 years in jail for taking bribes.
The ruling was announced Wednesday morning in Beijing, making Feng the second figure at CCTV found guilty of corruption following Zhao An, a former CCTV director.
In August 2003, Feng was accused of accepting 600,000 yuan (US$70,000) for bribes from a television producer in Heilongjiang Province and a former employee of the Haiyun Film and TV Programs Studio in Hainan Province.
In November 1998, Feng was approached by a man surnamed Zhao, a television producer in Heilongjiang Province who produced the TV series, Blood Times, but failed to sell it.
Zhao deposited 100,000 yuan in a bank account under the name of Feng, hoping Feng would use his influence at CCTV to buy the series.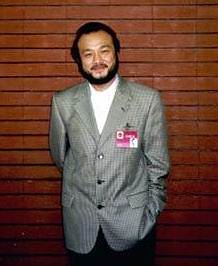 Zhao An, 44, a former entertainment programme producer with China Central Television (CCTV). [chinadaily.com.cn/file]

In January 1999, with the persuasion of Feng, the CCTV Arts Center signed the purchase agreement with Zhao at the price of 80,000 yuan per episode.

At the end of 2001, Feng cashed in on his position at CCTV to help buy TV series Elder Brother, produced by the Haiyun Film and TV Programs Studio, and broadcast it at prime time on CCTV-1. Wang Dong, the then employee of the studio, transferred 500,000 yuan to the credit card account of Feng Ji's wife.

Feng at first denied accepting bribes during the investigation, arguing he had never accepted any cash. Investigators found proof he received the money when they searched Feng's home.

On Monday, Wang Dong was sentenced to a three-year jail term for bribing Feng Ji.






| | |
| --- | --- |
| | |
| Fat feline slims down on 'Catkins' diet | |

| | |
| --- | --- |
| | |
| Keira Knightley in Hollywood for award | |

| | |
| --- | --- |
| | |
| Back together again: Original Duran Duran | |
Today's Top News
Top Life News

Police learning to deal with kidnapping




Coal mine blast leaves 56 dead, 148 missing




Typhoon kills 30 in Japan, at least 40 missing




Kids pick Kerry to be the next president




Northern cold front sends mercury plunging




Dirty, illegal blood stations shut down