Kids pick Kerry to be the next president
(Agencies)
Updated: 2004-10-21 09:26
Kid power! Democrat John Kerry is the winner, and the rest of the country should pay attention because the vote on Nickelodeon's Web site has correctly chosen the president of the United States in the past four elections.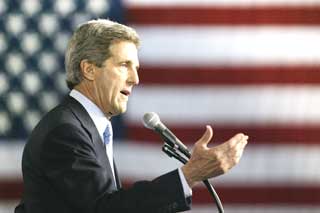 Democratic presidential nominee John Kerry speaks in Waterloo, Iowa October 20, 2004. Senator Kerry sharply criticized U.S. President George W. Bush's handling of the war in Iraq. [Reuters]

Nearly 400,000 children and teens voted, and the results were released Wednesday. Kerry received 57 percent of the vote; President Bush got 43 percent.

Nickelodeon has been airing information on the Nov. 2 election, plus sponsoring debates where kids could put forth their views on the environment, the war in Iraq and terrorism. Some animated shows on the cable channel also have been focusing on the election.

Linda Ellerbee, who writes and hosts "Nick News," says their voting usually reflects their parents' views ¡ª but not all the time.

"Every so often you get a kid that says, `My parents are voting for X, but I'm voting for Y,'" she said. "It's amazing, the point when kids start forming their own ideas about issues."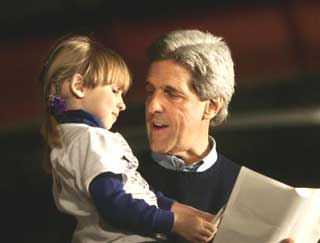 Democratic presidential candidate Sen. John Kerry, D-Mass., holds Michaela Fishback, 5, of Waterloo, Iowa as she asks him to autograph a photo of the two of them from a previous event, during an airport rally in Waterloo, Iowa, Tuesday, Oct. 19, 2004. [AP]

Ellerbee said Nickelodeon has been traveling the country teaching about the election and the importance of being socially informed. Seven-year-old Anthony Viggiano of Baldwin, N.Y., won a contest for the best song lyrics about freedom of speech and performed it with rocker John Mellencamp.

"If we can get kids interested earlier in voting, when they can legally vote, they will," she said. "They will run for office, they will be the candidates (that) people want to vote for."

Ellerbee, who will announce the results on "U-PICK Live" Wednesday night, said many children wonder why they can't vote in the real election.

"Kids aren't dumb, they're just younger and shorter," she said. "In fact, last election, a boy came up to me and said, `We picked George Bush to win, and he didn't really win. Al Gore won the popular vote, so we were kinda wrong.' Quite an observation."




Today's Top News
Top World News

1.46b people by 2030s may hinder development




Mother-to-child HIV transmission tackled




Mine death toll rises to 82, hopes slim




New efforts needed to cool economy down




Property law secures ownership




Powell arrives in Beijing for 2-day visit