Typhoon kills 30 in Japan, at least 40 missing
(Agencies)
Updated: 2004-10-21 08:45
Rescuers across Japan were searching Thursday for 40 people missing after a powerful typhoon raked the country with heavy rains and high winds, killing at least 30 in floods and landslides.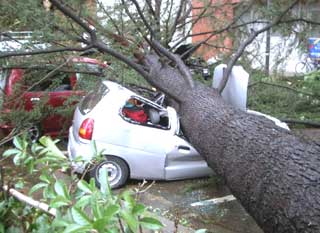 A vehicle is crushed under a fallen tree due to typhoon Tokage in Hiroshima, southwestern Japan October 20, 2004. Tokage -- which means "lizard" in Japanese -- hit western Japan on Wednesday, killing at least two people and snarling transport as it lashed the country with heavy rains that set off landslides and forced thousands to evacuate. [Reuters]

Typhoon Tokage, described as the deadliest storm to hit Japan in a decade, headed out to sea after sideswiping Tokyo and was expected to be downgraded to a tropical depression later in the day. It was a record 10th typhoon to hit Japan this year.

Heavy rains that pounded much of Japan Wednesday set off landslides that killed many people. Others died in flooding or were swept away by massive waves.

Rescuers in the western Japanese prefecture of Okayama began digging through the rubble of seven homes crushed in a landslide hoping to find survivors.

Among the dead were three people killed when high waves battered through a concrete breakwater and smashed into their home in Kochi, on Shikoku island in western Japan.

Television showed people holding on to power poles to stay on their feet as the storm swept up the coast toward Tokyo.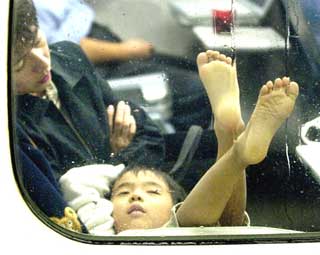 A Japanese mother and child passenger take a rest in a bullet train that is shut down due to Typhoon Tokage at Nagoya station in Nagoya central Japan October 20, 2004. [Reuters]

Telephone poles stuck up out of muddy water that still covered vast areas near the ancient capital city of Kyoto.

Thirty-seven people who had spent the night on top of a tourist bus after being stranded by floodwaters were rescued by rubber boat early Thursday.

Tokyo was buffeted by strong winds and rain but no major damage was reported.

As of 7 a.m. (7 p.m. EDT Wednesday) the weakening typhoon was located in the Pacific some 37 miles east of Inubo Cape, just east of Tokyo.

During the worst of the storm, thousands of people were urged to evacuate to schools and public halls out of fear of flooding and landslides. At least 40,000 homes lost power at one point.

Storms and floods have now killed more than 100 people in Japan this year and caused hundreds of millions of dollars in damage. The previous typhoon, Ma-on, pummelled Tokyo and killed six people across the country earlier this month.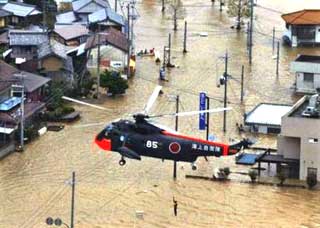 Residents stranded in a river flood are rescued by a Japan Marine Self-defense Force helicopter after deadly Typhoon Tokage brought heavy rain to the western Japanese city of Maizuru, Japan October 21, 2004. Rescuers across Japan were searching on Thursday for 40 people missing after the typhoon raked the country with heavy rains and high winds, killing at least 30 in floods and landslides. [Reuters]
Today's Top News
Top World News

Police learning to deal with kidnapping




Coal mine blast leaves 56 dead, 148 missing




Typhoon kills 30 in Japan, at least 40 missing




Kids pick Kerry to be the next president




Northern cold front sends mercury plunging




Dirty, illegal blood stations shut down