Section of ancient Pingyao wall collapses
By Wang Ying (China Daily)
Updated: 2004-10-20 00:47
A section Pingyao Ancient Town's historic wall, a world cultural heritage site in North China's Shanxi Province, collapsed on Sunday due to lack of maintenance.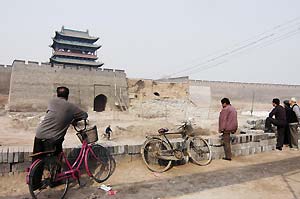 Residents of Pingyao gaze at collapsed section of the ancient town wall yesterday. Local officials say the restoration project will begin soon. [newsphoto]

The 17.3-metre-long ancient wall, part of the South Gate enclosure at the more than 500-year-old ancient town, collapsed Sunday afternoon, officials with Pingyao County Cultural Relics Bureau, said.

A long-time lack of maintenance is believed to be the reason for the collapse, an official with the bureau surnamed Gao said yesterday.

"The section of ancient wall looks fine on the outside but the tamped earth inside the layer of bricks had slackened," Gao told China Daily via a telephone interview.

"A gust of wind can blow out dry earth from the bricks."

A repair team was sent to the site on Monday by local government officials.

Most of the ancient wall had been repaired in recent years and maintenance work continued annually, Gao said.

Only a small section had not been revamped, Gao said.

Pingyao, a small town about 90 kilometres away from Taiyuan, the capital of Shanxi, is famous for its well-preserved ancient wall.

The town was placed on the United Nations' World Heritage List in 1997.

The city's history can be traced back to the Western Zhou Dynasty (11th century BC-771 BC). The present wall was built during the Ming Dynasty (1368-1644).

The city wall makes up an unbroken rectangle and features a rammed-earth-and-brick structure that goes 6.2 kilometres around.

It rises 10 metres high and 8-12 metres wide at the bottom and 2.5-6 metres on the top.

Local officials said the wall collapse at the South Gate of the town will not harm tourism because the front square of the gate has been undergoing restoration since May and is closed to visitors.

Pingyao Ancient Town has been one of the major tourist sites in the province.

An international photography festival has been held annually in September in the ancient town since 2001, and has drawn an increasing number of visitors from home and abroad.




Today's Top News
Top China News

Talks to be held on disputes with Japan




Traditional friendship with DPRK flourishes




Forest fire under control in Northeast




Section of ancient Pingyao wall collapses




Weather satellite sent into orbit




Sediment problem eased at Three Gorges