Traditional friendship with DPRK flourishes
By Jiang Zhuqing (China Daily)
Updated: 2004-10-20 00:47
China and the Democratic People's Republic of Korea (DPRK) will work hard to push forward co-operation and friendship, said President Hu Jintao and Premier Wen Jiabao Tuesday during a meeting with Kim Yong-nam, the DPRK's top legislator.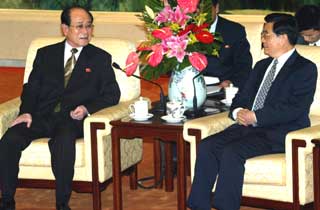 Chinese President Hu Jintao (R) talks to North Korea's parliament head Kim Yong-Nam in the Great Hall of the people in Beijing October 19, 2004. Kim is in Beijing on an official visit until Wednesday before leaving for Tianjin. [Reuters]


Decades of traditional friendship between the parties and governments of China and the DPRK, forged by the two nations' previous leaders, have become a precious shared wealth for both, said President Hu Jintao when meeting with Kim, the president of the Presidium of the Supreme People's Assembly of the DPRK.

Consensus on developing a new century-oriented relationship has been reached under the efforts of leaders of the two neighbouring states and will create fresh vitality and energy for bilateral ties, Hu said.

China will, together with the DPRK, follow the guidelines of "inheriting traditions, facing the future, good-neighbourliness and strengthening co-operation'' in pushing forward exchanges and co-operation in all aspects, said the Chinese President.

The nations will also seek further co-operation and co-ordination in dealing with regional and international issues in order to bring benefits to the countries and peoples, Hu said.

The commemoration of 55th anniversary of the establishment of diplomatic relations bears significant importance to relations, said Kim, who is on his first visit to China in five years.

The DPRK praises highly the friendly policies that China has stuck to towards the DPRK over the past and will push bilateral ties to a new high, Kim said.

Exchanging views on the Korean Peninsula nuclear issue, the leaders agreed to seek a nuclear-free peninsula through a peaceful solution by way of continued dialogue.

Premier Wen Jiabao said he hopes the sides can gradually set up a co-operative mechanism to ensure healthy development of trade and economic co-operation, encourage entrepreneurs to trade and invest, as well conduct personnel training and technological co-operation.

Echoing Wen's views, Kim said friendly relations have been enhanced and beneficial co-operation in economic fields has smoothly developed in recent years.

Wen reiterated that China will continue to provide economic aid to DPRK.

Wen said that all sides related to the nuclear issue should be restrained, seek trust and reduce differences through continued talks.

Kim said that the DPRK upholds China's policy of "one country, two systems" in reuniting its country.

Before the meetings with the Chinese leaders, Kim was taken on a tour of Hancunhe, a model village on the outskirts of Beijing.

Upon reaching Beijing on Monday, Kim will also visit Tianjin, a city in North China.




Today's Top News
Top China News

Talks to be held on disputes with Japan




Earthquake injured 12 in Southwest China




China's GDP to exceed 8% in 2005




Traditional friendship with DPRK flourishes




Myanmar PM ousted, under house arrest




Forest fire under control in Northeast