China launches professional weather satellite
(Xinhua)
Updated: 2004-10-19 14:04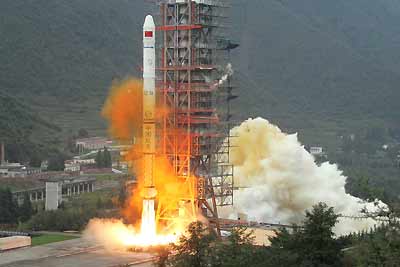 China's first professional meteorological satellite, Fengyun-2 batch 2 (FY2 O2) is launched with Long March carrier rocket 3A in Xichang satellite launching center Tuesday morning, Oct.19, 2004. [Xinhua]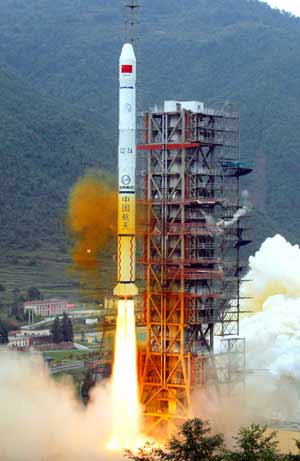 China's first professional meteorological satellite, Fengyun-2 batch 2 (FY2 O2) is launched with Long March carrier rocket 3A in Xichang satellite launching center Tuesday morning, Oct.19, 2004. [Xinhua]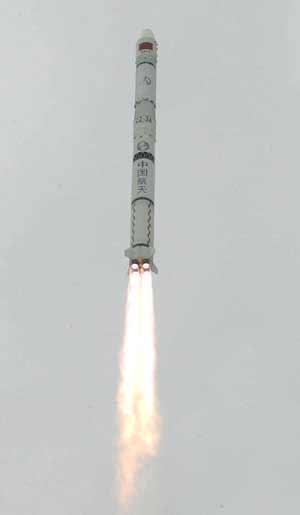 China's first professional meteorological satellite, Fengyun-2 batch 2 (FY2 O2) is launched with Long March carrier rocket 3A in Xichang satellite launching center Tuesday morning, Oct.19, 2004. [Xinhua]
China launched its first professional geostationary orbit meteorological satellite, Fengyun-2 C (FY2 O3),at 9:20 am Tuesday with Long March carrier rocket 3A in Xichang Satellite Launch Center in the southwestern province of Sichuan.
The 1.38-ton satellite, independently developed and manufactured by China, entered its orbit 24 minutes after the takeoff of the rocket. In the following days, it will be positioned at 105 degree east longitude right over the equator with an observation scope covering one third of the earth's surface, according to relevant scientists.
China has sent two experimental models of FY2 series in 1997 and 2000 respectively. With two new channels being added to its scan radiometer, the second generation satellite, the FY2 C, has reached the international standard of new generation weather satellites, relevant experts said.
The newly-added infrared observation and visible light channels will enable FY2 C to observe the size of water drops atop cloud layers around-the-clock, and to better monitor the surface temperature of sea water, experts said.
With greatly enhanced resolution and accuracy of observation, the new satellite also has better access to data of oceanic meteorological and hydrological information and monitor changes of solar and space particle radiation, said experts.
China has launched seven weather satellites since 1988, including four FY1 polar orbit ones and three FY2 stationary earth synchronous orbit ones.
The FY2 C, the first professional geostationary orbit satellite launched by China, is expected to help keep track of small scale disastrous climate changes like hailstorms, and observe forest and prairie fires, foggy weather and sandstorms.
In the coming years, China is scheduled to launch several FY2 professional weather satellites to establish a continuously- operating system of weather satellites.