U.S. planes hit Iraq's Falluja, guns deal expanded
(Agencies)
Updated: 2004-10-19 09:09
U.S. warplanes hit the rebel-held Iraqi city of Falluja overnight as part of a drive to thwart expected attacks during the Muslim fasting month of Ramadan and ensure security for national polls due in January.
U.S. and Iraqi forces also surrounded the town of Duluiya, north of Baghdad, raiding homes, detaining scores of suspected rebels and calling in helicopter strikes on suspected insurgents hiding in surrounding orchards, Iraqi officials said on Tuesday.
There was no word on casualties from either operation.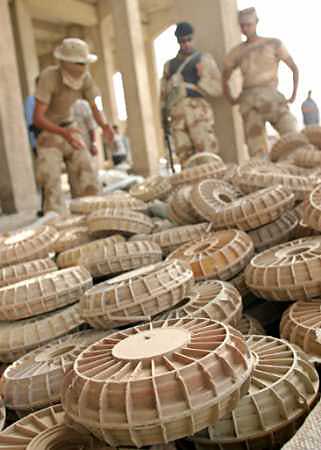 Iraqi national guardsmen collect anti-personnel land mines delivered to a police station in the eastern Baghdad Shi'ite suburb of al-Sadr city, October 18, 2004. Iraq' interim government will declare a nationwide arms amnesty next week, but insists the city of Falluja must turn in foreign militants or face assault, National Security Adviser Kassim Daoud said Monday.[Reuters]

The 96 minutes of air strikes on Falluja, 50 km (32 miles) west of Baghdad, destroyed safe houses and weapons caches used by followers of Jordanian Abu Musab al-Zarqawi, the U.S.'s top enemy in Iraq, the U.S. military said in a statement on Tuesday.

"Multiple secondary explosions indicate a significant amount of explosives or ammunition inside the houses," it said.

The United States said Zarqawi's group was using the houses to plan suicide car bombings during Ramadan, a month that saw a dramatic spike in bloodshed a year ago and which comes just ahead of elections set for January.

Zarqawi's Tawhid wal Jihad (One God and Holy War) group claimed twin suicide bombings that killed five people last week in Baghdad's fortress-like Green Zone, home to the interim Iraqi administration and the U.S. and British embassies.

Washington has blamed Zarqawi and his followers for some of the worst militant violence since last year's invasion of Iraq.

Iraq's U.S.-backed administration is battling to pacify the country and win back insurgent-held areas before the election, which is seen as a crucial step in Iraq's efforts to rebuild.

Duluiya is about 20 km (12 miles) south of the town of Samarra, where U.S. and Iraqi forces carried out a large offensive this month to restore control.

Britain is considering a U.S. request to move troops now based in southern Iraq into more potentially dangerous areas to cover for U.S. units battling rebels in Falluja and elsewhere.

British Defense Secretary Geoff Hoon said he had not made any decision but expected a final assessment from his officials next week. Any such deployment could reignite anger over Prime Minister Tony Blair's support for the war.

Iraq's interim administration said on Monday a weapons amnesty that it considered successful in a restive area of the capital would be expanded to the rest of the country.

National Security Adviser Kassim Daoud said the cash-for-guns drive in Baghdad's Sadr City slum would be extended two days to Thursday. It was not clear if the expansion of the amnesty across the country would include a cash buyback.

In a country awash with guns, Iraqis are allowed one AK-47 assault rifle per household and handguns are largely overlooked. But many families possess more than one weapon.

U.S. forces on Monday released Falluja's chief negotiator, whom they detained on Friday, after battles and air strikes on the edge of the rebel-held Sunni Muslim stronghold.

Interim Prime Minister Iyad Allawi says he remains open to a negotiated settlement in Falluja, but some senior Western diplomats say the chances are fading by the day.

Falluja residents, enraged by U.S. air strikes that they say kill civilians, deny any knowledge of Zarqawi's network.

Freed Falluja representative Khaled al-Jumaili said the hunt for Zarqawi was a pretext to attack the town, comparing it to U.S. assertions that Iraqi leader Saddam Hussein had weapons of mass destruction before last year's invasion.

Zarqawi, who has a U.S. bounty of $25 million on him, has declared loyalty to al Qaeda leader Osama bin Laden for the first time, according to a statement posted on the Internet.

"We announce that the Tawhid wal Jihad group, its prince and soldiers, have pledged allegiance to the sheikh of the mujahideen Osama bin Laden," said the statement purportedly from Zarqawi's group.




Today's Top News
Top World News

Kim: DPRK seeks peace in Korean Peninsula




Hu meets Cambodia's new king in Beijing




BOC to issue US$1.45 billion in debt bonds




EU mission to decide on lifting poultry ban




Sweeping fire threatens in northeast




Putin: Growing terror attacks aimed at Bush