Warding off dark side, China displays fuel-saving cars
(Agencies)
Updated: 2004-10-18 15:25
The Habo No. 1 looks like any one of the legions of Volkswagen sedans in China. But a peek under the hood reveals an array of chrome canisters instead of the usual engine — the Habo is fueled not by gas but hydrogen peroxide.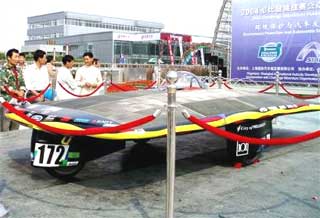 A solar-powered car is exhibited at an eco-friendly cars event Thursday, Oct. 14, 2004 in Shanghai, China. Chinese and global automakers at a competition of some 74 eco-friendly vehicles which held at the brand new Formula One circuit west of Shanghai, highlights China's awareness here of the flip side of its newfound love affair with the automobile - fast-growing dependence on expensive oil imports, jampacked roads, cities awash in noxious exhaust fumes. [AP]

"This car only emits water vapor and oxygen," said He Limei, project director for Shanghai Habo Chemical Technology Co., showing the Habo at an exhibition of ecologically friendly cars outside Shanghai.

"It uses rocket technology."

The Habo was one of 150 experimental and advanced-technology vehicles on display at the Challenge Bibendum, an expo named for sponsor Michelin's puffy mascot. The event, held at a new Formula One track outside Shanghai, reflects China's growing awareness of the dark side of its love affair with the car — dependence on imported oil, traffic-choked roads, cities awash in smog.

Even as booming demand has turned it into the world's fastest-growing auto market, China is pushing to develop alternative fuels. Foreign automakers are preparing to test cars and buses driven by fuel cells and gasoline-electric hybrid engines.

"Using conventional internal combustion engine technology alone will be a source of huge pressure in terms of energy security and environmental protection in China," Wan Gang, president of Shanghai's Tongji University, which has its own automotive studies institute, told participants in the Challenge Bibendum.

Efforts to develop "clean vehicles" are accelerating as China prepares to hold the 2008 Olympics in Beijing and the 2010 World Expo in Shanghai, Wan said.

The recent surge in world crude oil prices to over $50 a barrel has driven home the costs of relying on oil imports. China only became a net oil importer in 1993, but skyrocketing demand means it now buys 40 percent of its supplies abroad.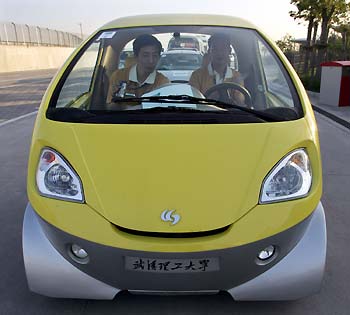 An electric-powered Aspire car from China's Wuhan University of Technology rolls at the start of the Challenge Bibendum Rally, a clean vehicle event, in Shanghai October 13, 2004. The event promotes progress in the development of environmentally friendly vehicles and is an increasingly popular platform for car manufacturers to demonstrate state-of-the-art technologies in this field. [Reuters]

The vehicles displayed in Anting run on electric motors, gasoline-electric hybrid engines, fuel cells and other technologies meant to cut pollution and boost fuel efficiency.

Hydrogen peroxide reacts with silver to produce oxygen and heat that can be used to propel a rocket, or a car.

But He admitted the Habo needs a bit more work: the equipment required to run it fills the entire back seat and trunk.

"We only had three months to develop this," she said. "It's somewhat lacking aesthetically."

The Chinese government began looking at alternative fuels in the 1980s and is promoting diesel and fuels made of locally abundant materials.

Despite scant progress in putting any domestically developed alternative fuel technologies into commercial use, 43 Chinese-developed vehicles — 20 of them two-wheelers — were among the models displayed by both local and foreign automakers at the Bibendum.

China proclaimed its ambitions to build a world-class auto industry more than a decade ago and has made enormous strides in building up its own manufacturers and nurturing the market for private cars.

In 2003, sales jumped 75 percent, prompting global automakers, most of which already have sizable stakes in China, to announce plans for billions of dollars in new investments.

But outside major cities like Shanghai and Beijing, this is still a country in transition to the automobile age — where diesel-powered three-wheelers, mule carts and bicycles share the roads with Liberation-brand trucks, luxury sedans and sports utility vehicles.

Many in the industry say China's status as a newcomer without big investments in aging technology could be an advantage, letting it jump straight to a newer generation of technology. The country has benefited from similar leapfrogging in telecoms and other new fields.

"One thing China has going for it is its relatively young automotive industry," said David Chen, vice president for General Motors China. "China's automotive industry does not need to fully take the fossil fuel path. It is in an ideal position to develop alternative energy."

GM and its main Chinese partner, Shanghai Automotive Industry Corp., say they plan to test a hybrid bus in Shanghai. The companies have also developed a fuel cell prototype, the Phoenix.

DaimlerChrysler AG says it plans to test three hydrogen fuel-cell buses in Beijing next year. Toyota Motor Co. intends to assemble and sell its gasoline-electric Prius hybrid in China.

Fuel cells, which fuse hydrogen and oxygen to produce electricity, heat and water, are considered the ultimate power source because of their efficiency and lack of pollution.

But developing the networks of fueling stations is a goal that likely is decades away, industry executives acknowledge.

Until then, the challenge will be to ease away from fossil fuels by matching new technologies with commercially viable markets, said C.C. Chan of the Chinese Academy of Engineering.

"When you solve the technology, you get very excited," Chan said. "But when you look to mass production and marketing, it's cost, cost, cost."





Today's Top News
Top China News

Warding off dark side, China displays fuel-saving cars




Chinese riot police head for Haiti mission




Hu urges police to improve performance




Wiping out poverty galvanizes China




2 Chinese shot dead in robbery in S. Africa




Chinese drivers worry of petrol price hikes